GameWorks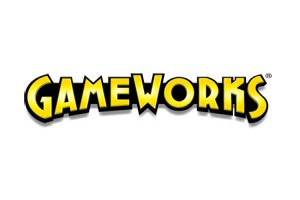 Are you ready to create long-lasting memories with one of the most recognized brands in the entertainment world?
The GameWorks venues are entertainment centers that offer a unique combination of games, food and sports for the whole family. Our goal is to provide families with a premiere entertainment and gaming experience in a safe and welcoming environment. Each of our locations offers a dynamic roster of classic and modern arcade attractions, unique American cuisine and a wide range of craft beers and cocktails.
Let's get started!
First things first, get your game on with our rechargeable game cards! Game cards are your ticket to playing hundreds of games in any of our facilities. From novice players to hard-core gamers, we've got something for everyone!
Don't believe us? Listen to our fans, who say, "Gameworks is an arcade gamer's dream. A vast majority of the layout is completely dedicated to arcade games of ALL kinds. You'll see your driving games, your light gun games, your fighting games, your carnival ticket awarding games, your hot new trendy games, your pinball machines, your retro games, and your 'I've never seen this ANYWHERE games'." Check out some of our featured games.
Earn Rewards!
You can also earn discounts and rewards! Sign up for Gameperks, our player rewards program, to receive exclusive offers and earn points towards playing your favorite games all year long! The points you earn can be used towards a variety of food and games at most of our venues. Learn more about Gameperks here.
Looking for a delicious, relaxing meal?
Our venues offer classic American food, as well as original local specials. Grab an appetizer at the bar, share a meal with family and friends in our dining room, or watch the latest sports while enjoying some cold beers. For full menu options, check out our Eat & Drink section.
Every day is better with a Happy Hour!
Find Happy Hour specials and more great deals at each of our locations. Make your day a great day, spend time at GameWorks!
Catch the Big Game!
Watch all your favorite sports at your neighborhood GameWorks. Enjoy multiple big screen viewing of your favorite national and college teams, as well as select international and pay-per-view sporting events.
Need to book a party for an upcoming event?
Contact us today to plan your party, corporate event or social gathering. We have popular packages and we're always happy to customize to meet your specific needs.
Need a gift anyone can enjoy?
It always fits and it never goes out of style - give your loved ones, co-workers or friends a GameWorks gift card that they can use whenever they want.
Okay – ready, set, start the fun now!
For family fun for everyone, think GameWorks. And don't forget to sign up for Gameperks so you can get rewarded for your play!
2015 Best Arcade Nomination: GameWorks Las Vegas was just nominated the 2015 BEST ARCADE by the Las Vegas Review Journal! The family-friendly restaurant is bringing its signature brand of entertainment to the popular Las Vegas retail and dining destination by featuring a dynamic roster of classic and modern arcade attractions, unique Gastro-Pub style American cuisine and an outdoor patio space for al fresco dining. Standout highlights for GameWorks' newest location include a 8,700-square-foot arcade floor, an eight-lane bowling alley and the flagship eGaming Arena, a devoted space for multi-player online computer gaming.
How does this location differ from other Gameworks locations?
Answer - GameWorks Las Vegas differs from other GameWorks in a few ways:
The Social Gaming Arena is the first of its kind within a GameWorks restaurant, featuring 60 top-of-the-line gaming computers. GameWorks Las Vegas also hosts competitive eSports leagues.
A top-of-the-line bowling space is available for every day play and private events. The eight-lane alley also features a dedicated bar area.
What type of food do you serve?
Answer - Our Gastropub style menu features items unique to GameWorks' Las Vegas location, including:
Short Ribs, beer-braised in stout & served over garlic mashed potatoes
Loaded Fries smothered with cheese, sour cream & black beans, topped with bacon
Triple Decker B.L.A.T., triple-smoked bacon, fresh bibb lettuce, avocado & oven dried tomato with house made mayo
How is the new GameWorks experience?
Answer - GameWorks visitors can really customize their experience and enjoy everything from fully-immersive and high-energy entertainment to delicious food and craft cocktails. The entire space is alive with fun and excitement, whether guests are enjoying our huge interactive video wall, the giant horseshoe bar or the brightly-colored 8,700 square foot arcade floor.
Why is GameWorks Las Vegas located at Town Square?
Answer - Town Square is a natural fit for GameWorks, as the space echoes everything that GameWorks is about. We are family-friendly and entertainment-focused, with a delicious array of food and beverage options. We look forward to offering something new to both the community and visitors of Las Vegas!
Is there a new GameWorks card that we use for credits? Can we use our old ones?
Answer - Old GameWorks cards can be converted in the kiosks here in the venue to retain your credit balance on a new card.
What promotions are available?
Answer - We are still assembling our list of promotions, but right now, you can sign up for our loyalty program, GamePerks, and earn a dollar on every food or arcade gaming purchase you make!
Can we bring our own gaming gear for eSports play?
Answer - Of course! All units are equipped with USB 3.0 hubs for any player to bring their own equipment and plug in.
Does your eSports center offer console gaming?
Answer - Console gaming is coming to GameWorks, but is not yet up and running. Look for it soon!
Galleries Coming Soon