Cowabunga Bay Water Park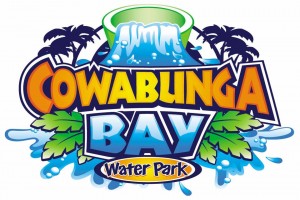 Enjoy great family fun, delicious food or even a VIP experience at Cowabunga Bay. Take a trip back to the surfin' safari beach days at this surf-retro themed water park. Sprawling with multiple slides, a wave pool & a kids' area, plus restaurants, Cowabunga Bay is sure to become a new Las Vegas icon!
The all-new Cowabunga Bay Water Park in Las Vegas features more than 25 water slides and attractions, including several unique water slides for Nevada. The park's attractions include a wave pool, endless river, kids play area and splash pools.
Thrill-seekers will love rides like the the seven-story tall Zuma ZOOMa body slide featuring a "launch capsule" with a trap door that drops out below you sending you on a high-speed journey at 40 miles-per-hour through an enclosed flume. It's also Nevada's tallest and fastest water slide. Families will enjoy riding together on the park's unique four-passenger raft rides Wild Surf and Beach Blanket Banzai.
Other rides found at Cowabunga Bay are Good Vibrations a 600-foot long tube slide with two giant "rebound chambers" that cause your tube to climb the walls and rock from side-to-side, Point Panic, a tube slide in total darkness except for some unique lighting features, and Surfin' USA, a one-of-a-kind, six-lane, mat racer slide featuring a unique uphill section.
The park's 35,000 square-foot Surf-A-Rama Wave Pool is one of the largest in the state and sports a 1950s Drive-In Theater theme. The park will present
Cowabunga Bay also offers cabanas with wait service and a unique VIP pool area that is reserved for "Caban-a-Rama" guests. You'll also find a variety of food & beverage choices, including the famous Dole Pineapple Whip treat. Tubes and life jackets are also provided free of charge.
THINGS TO DO
Water Slides: Cowabunga Bay offers some of Nevada's most thrilling and one-of-a-kind water slides. Cool off all day long on these thrilling attractions:
Zuma ZOOMa
3…2…1…Blast Off! Thrill seekers will love this attraction as it drops instantly from 73 feet in the air into a high-speed horizontal 360-degree loop. This ride features a unique "launch capsule" with a trap door that drops out from below, instantly sending riders on a thrilling adventure.48" height requirement Maximum Weight: 264 pounds
Wild Surf
Designed and created exclusively for Cowabunga Bay, this giant slide features a four-person raft that drops from a dizzying height of 55 feet into the world's largest man-made wave. Once inside the wave, riders will shoot through the crest as they ride from side to side, forwards and backwards, before they splash into the pool below.
42" height requirement
Surfin' USA
This one-of-a-kind racing slide features a unique uphill section. The race is on as six guests plunge face first down, then up and over to an exciting finish. 42" height requirement Minimum Weight: 75 pounds Maximum Weight: 264 pounds
Beach Blanket Banzai
This giant raft slide is an adventure you can ride along with family and friends. Giant circular rafts are mechanically lifted to the top of the tower where up to 4 guests can board. Together take an exhilarating journey down 600 feet of twist, turns and drops before reaching the splashdown finale.
42" height requirement 4 Person Maximum Weight: 770 pounds
Point Panic
Grab a tube and take a midnight surf-run down this fully enclosed, pitch-black water slide. Scared of the dark? Don't worry; along the way you will encounter unique lighting features that enhance your need for speed.42" height requirement Maximum Weight Single Tube: 264 pounds Maximum Weight Double Tube: 440 pounds
Rock-A-Hoola
The surf revolution is on! Riders brave down this 300 foot long slide before entering a giant bowl; then take several revolutions before a thrilling splashdown. 42" height requirement Maximum Weight Single Tube: 264 pounds Maximum Weight Double Tube: 440 pounds
Good Vibrations
This 600 foot long slide features two giant "rebound chambers" which cause your inner-tube to climb the walls and rebound from side to side. 42" height requirement Maximum Weight Single Tubes Only: 264 pounds
SURF & SWIM:
Beaches, Pools, Bays & Rivers . . . there's more than one way to cool off at Cowabunga Bay.
Surf-A-Rama Wave Pool
Set amidst a 1950's Drive-In theater this awesome wave pool will rock waves up to 4 feet high. Splash and play in the waves as they break on the beach. This 35,000 square foot wave pool will be one of the largest in Nevada.Children under 42" must be accompanied by a supervising adult.
Cowabunga River
Get ready to cruise the retro surf scene on what is sure to be a Cowabunga Bay favorite. More commonly known as a lazy river, there will be nothing common about this attraction. Cool off and float your cares away as you pass giant surfboards, water features and a groovy '67 VW bus. Children under 42" must be accompanied by a supervising adult.
Boardwalk Bay
Relaxation rules in this care-free pool. Splash in the playful fountains or just enjoy the sun as you float your cares away.
Splash Pools
Cowabunga Bay's water slide attractions splash down in refreshing pools of water. A great way to cool off after a thrilling slide!
JUST FOR KIDS
Cowabunga Kids Cove
This area is exclusively designed for our younger guests. Children and toddlers can splash and play in the heated pool and ride slides scaled down to their size. Parents can rest assured knowing there is one controlled entrance and exit point as well as our certified life guards on duty at all times.
Slides and Splash Features
Several slides have been scaled down for those that are just beginning to get their feet wet. Water falls, tipping buckets and the Guppy Racer, a smaller version of our giant racer slide, all set inside our giant splash pool built just for kids.
DELICIOUS FOOD & BEACH TREATS
Slipping and sliding on a hot summer day can really build quite an appetite. We've got just the treats for you!
Bullwinkle's Boardwalk Grille
Lunchtime is also a fun time at this full service eatery. Bullwinkle's Grille serves pizza, burgers, chicken strips, wraps, sandwiches and more. Just in the mood for a snack? Grab nachos, a churro, pretzel, buffalo wings or our signature bucket of fries.
Rocky's Beachside Cafe
(Opening Spring 2015)
Cowabunga Chill
Serving up summertime favorites such as soft drinks, soft serve ice cream, ICEE, Dole Pineapple whip and shakes.
Dippin' Dots
Ice cream of the future is available at two locations throughout the park.
Cabana Service
All VIP cabanas include wait service. Order anything from our Grille and have it delivered directly to your cabana.
Q: Will Season Passes be available?
Season Passes are available for purchase online and at the park. Limited quantity available.
Q: Is there an additional fee for Tube Rentals?
Tubes and Lifejackets are ALWAYS FREE (subject to availability). Tubes will be provided free of charge for the Lazy River, Wave Pool and all water slides that require tubes to ride.
Q: What about parking?
There is a $5.00 fee for parking.
Q: Can we bring food into the park?
Outside food and drinks are not allowed in the park. We offer many delicious food items at reasonable prices. However, if you wish to bring your own food we do allow you to exit the park, use our picnic area and then re-enter the park. Factory sealed bottled water, infant food and special dietary needs are exceptions to this rule. Please make prior arrangements with guest services for special dietary needs.
Q: Will you offer special rates for birthday parties and large groups?
Cowabunga Bay is a great place to hold a celebration and we will have special prices depending on your needs and the size of your group. Please click here to view our birthday party packages. Currently we are still programing our group rates. Please check back later for more details.
Q: Are Toddlers and Infants Free?
Children 2 years and under are admitted free with an accompanying paying adult. Season Passes are not required for Children 2 and under prior to August 1.
Q: What if I forgot sunscreen?
Cowabunga Trader Store will offer all your summer needs such as sunscreen, flip flops, towels, sunglasses and many other souvenir items.
Q: Is it true you will have Dole Pineapple Whip?
Yes, this is absolutely true. Enjoy the delicious summer treat made famous at Disney's Tiki Room.
Q: Is my Season Pass good at both the Draper, UT and the Las Vegas location?
Cowabunga Bay Season Passes and Super Passes will be valid at both Cowabunga Bay parks (Henderson, NV and Draper, UT). Value Passes are only valid at the location purchased. The following rules must be followed when purchasing Passes. If you purchase a Las Vegas Season Pass, you MUST process the pass at the Las Vegas park. If you purchase a Utah Season Pass, you MUST process the pass at the Utah park. Restrictions do apply per the type of pass purchased (Plus Pass and Flex Pass are valid at UT Park only and Super Pass is valid at NV park only) please call the park for more details.
Q: Is smoking allowed at Cowabunga Bay?
Cowabunga Bay is a smoke-free park. A smoking area is provided outside the park. Please see a gate attendant for a re-admission ticket if you wish to use this area.
Galleries Coming Soon