Fast Lap Indoor Kart Racing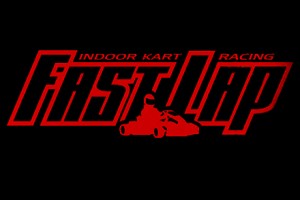 Bare-bones, indoor racing facility featuring go-karts with 200cc Honda engines, plus a small arcade. Come and experience the feel of Real Racing at Fast Lap Indoor Kart Racing.
Think karting is just kid stuff? Think again.
The world of big-league racing, from NASCAR to Formula One, starts with karting; even at the grass-roots level, karting is as competitive as any racing you'll find. Whether you use karting as a way to develop your driving skills, as a stepping stone to other series, or you just want to feel the speed, Fast Lap Indoor Kart Racing offers a real race experience you'll never forget.
Established in 2003, Fast Lap Indoor Kart Racing is Vegas' first and only Indoor Kart track that operates gas powered karts. Our tracks were designed by two former IKF Racers who actually raced, so you know you are getting a well designed race course. Our tracks are 20' wide and 1200' in length, plenty of room for great racing and passing. Best of all we let you race, no turning down the power or slowing your kart remotely! Rubbing is racing! (if your intentionally bumping you're going to be removed from the track.)
Fast Lap gives you not only a great racing experience (we feel the best in the business) but also gives you a great value as well. Fast Lap races are a true ten minutes on the track! Thats an average of 17-22 laps each race!
Fast Lap has had many professional race drivers like Kurt and Kyle Busch, Jimmy Vasser, Paul Tracy, Richie Hearn, Roberto Moreno, Oriel Servia, Robbie Buhl, Ricky Carmichael, Chad Reed and many others. When they can't race family and friends on the big track they bring them to Fast Lap.
Fast Lap is also a great place to build a Winning Team! Fast Lap has entertained many National Companies such as: Google, Dell, Cisco, Oracle, Yahoo, Addias, US Bank, Wells Fargo, Ford, GM, Fox Clothing, Piloti and the list goes on and on and on! Check out our testimonials page!
Our buildings are equipped with state of the art professionally engineered exhaust systems that change the air in our building every 4 to 5 minutes. Our locations are inspected on a regular basis by private and governmental agencies. Safety is always our top priority along with providing the REAL RACING EXPERIENCE! Thanks to our well trained and loyal staff in our over 10 years of operation, we are proud to boast a fantastic safety record!
OUR KARTS
Our race karts are 4 stroke Honda engines equipped with catalytic converters which beat the State of California's emission standards which are among the toughest in the nation.
Sodi-Kart Race Karts
Honda-powered karts 200cc 4 stroke engines. Tillett fully padded race seats, the same professional outdoor karting seat the pro's use! Karts can reach upwards of 50 miles per hour. Catalytic converters make for environmentally-friendly emissions.* Electronic, computerized timing system keeps stats on all karts Sparco neck collars, race suits are available. Vega Dot 3 Helmets. GoPro Video Helmet Cams available for rental.
Our Las Vegas track is just 3 blocks from The Las Vegas Strip. West of City Center (Aria, Vdara, Cosmopolitan.) Got a Party of 6 or more? Call us and we can pick you up!(advanced reservations required)
CLICK HERE FOR ARRIVE AND DRIVE RACING PACKAGES AND PRICING
CLICK HERE FOR GROUP PACKAGES AND PRICING
CLICK HERE FOR CORPORATE AND COMPANY EVENTS
Q: Do I need to make reservations to race at fast lap?
A: Reservations are only taken for groups of 6 or more that want to book one of the packages we offer. A deposit is required. For all other cases, just walk-in and race! Call ahead to check if we have any private event closures.
Q: Do I need a driver's license?
A: No, but again a parent must sign a waiver of liability if you're under 18 years of age.
Q: What is the age limit to race?
A: If you are under 18, a parent or legal guardian must sign a waiver of liability. We do recommend drivers be at least 10 and older.
Q: Can you send me the waiver form prior to coming?
A: No, the waivers must be filled out in person with proper identification.
Q: What should driver's wear?
A: Must wear closed toed shoes. Loaner shoes are available and socks are $2 a pair. Race suits are provided, but are not mandatory. 
Q: How many racers are allowed on the track at one time?
A: To keep racing fun and competitive, the maximum number of drivers at any time is twelve. 
Q: What is Fast Lap better than other indoor go-karting places?
A: Simple, gas powered race karts! They give you the sight, sound and feel of real racing! The karts are much lighter than electric, lighter karts mean better handling. Our tracks are 20? wide throughout most of the track for great passing or to move out of the way of a faster driver. We also pride ourselves in providing great customer service. Our staff and faculty are super friendly and helpful. 
Q: Is Go-Karting Dagerous?
A: Go-karting can be dangerous, but you can be assured that Fast Lap provides the finest safety equipment as well as a well-trained staff ensuring the best and safest race possible. You have to remember these karts are not on a rail like Disneyland, you must drive them to the best of your ability.Maintaining safety is top priority at Fast Lap. 
Q: I hear I Can rent a Go-Pro Camera?
A: All helmets are fitted with the GoPro camera track, simply rent the camera for $20, film your racing experience and you keep the 4GB SDHD card. Take it home and show it off to your friends and family!  
Galleries Coming Soon