The Range 702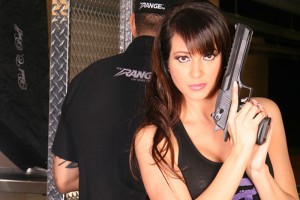 The Range 702 is the largest premier 5 Star indoor shooting facility in Las Vegas. Shoot an AK-47, 9mm, 12 Gauge Shot Guns, UZI and much more on our full auto firing range just minutes off the Vegas Strip. We offer complimentary transportation from your hotel and discounts when you book online.
The Range 702 is one of the premier Las Vegas attractions with the largest 5 Star indoor shooting facility. We have taken great pride in building a facility that offers customers the ultimate shooting experience.
Our first goal is to make sure that each and every one of our customers have a safe and exciting gun range experience that will keep them coming back. We have 25 shooting lanes that incorporate the latest advancements, equipment and technology in the firearms industry. Our facility features 3 ranges with 6 lanes and one VIP range with 7 lanes so that we can give our customers the best experience possible.
Click Here to See and Book a Shooting Experience!
Looking for high powered, high adrenaline Firearms? Bring out the inner Special Ops in you with our BLACK OPS EXPERIENCE!
Click Here to Book the Black Ops Experience
Are you ready to survive the Zombie Apocalypse? You will be after shooting These Zombie killing guns!!
Click Here to Book The Zombiance Experience
Click Here to Book The Bachelor Experience
Click Here to Book The 2 Gun Experience
The sensation and experience of shooting a machine gun can only happen first hand. We offer a full line of guns from the classic Thompson Sub-Machine Gun, M-16 and MP5. While our customers enjoy the opportunity to shoot machine guns, our local community, and other organizations are able to take full advantage of our private lanes.
Click Here to Book Our VIP Room
The Range 702 has an on-site Gunsmith and Armorer so that we can take care of our customers by providing cleaning, maintenance, repairs and custom work.
Click Here for Gun Smithing Details
The classes that we provide at our facility play a very important role in our community involvement. Safety and education are the building blocks to strengthen our shooting sport. Our instructors provide the highest level of training from a incoming beginner to a seasoned shooter wanting to advance to the next level.
These are just a few of the classes that we offer: State of Nevada Concealed Firearms Permit (CCW), Multiple NRA Courses, Basic thru Advanced Defensive Pistol, Variety of Women's Classes and Hunter's Safety.
FAQ'S
What are your hours?

We are open from 9am- to 7 pm 7 days a week, 365 days a year with modified hours on major holidays.

 

How much does it cost to shoot at the range?

Prices will vary between a la carte items and packages, please see the packages menu for full pricing. (Includes ear/eye protection, rounds, target, and gun rental, does not include range fee.)

 

Am I required to rent your firearms?

No, you are welcome to bring your handguns up to .45 caliber and rifles no larger than 30-06 (762x63)

 

Do I have to purchase rounds or can I bring my own?

While we have a large assortment of rounds available for purchase, you may bring your own provided it is not steel, tracer, armor piercing, or incendiary rounds.

 

What is the largest caliber you allow at the range?

We allow up to .45 caliber and rifles no larger than 30-06 (762x63).

 

What do you recommend that I wear to shoot in the range?

While there are no requirements we do suggest that you wear closed toe shoes and avoid tank tops as there could be hot brass flying into unwanted places.

 

How many lanes do you have?

We have 25 shooting lanes that incorporate the latest advancements, equipment and technology in the firearms industry. Our facility features 3 ranges with 6 lanes and one VIP range with 7 lanes so that we can give all customers the best experience possible.

 

What is the age limit for the range?

You must be 18 or older with a valid ID to shoot. Children must be 10 or older with a parent or legal guardian.

 

Can I bring my child(ren) with me?

Yes, we ask that you closely monitor your child(ren) for their safety as they are not permitted in the range area.

 

Do you take lane reservations?

Yes, please call for details.

 

What are your Firearm Range Rules? Click Here for our Range Rules
Galleries Coming Soon