Vegas Indoor Skydiving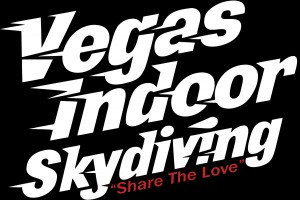 At Vegas Indoor Skydiving guests will earn their wings and experience bodyflight during a simulated skydive experience in the heart of the Las Vegas Strip
CLICK HERE TO BOOK RESERVATIONS
Total Experience - 1 Hour
Vegas Indoor Skydiving operates the first indoor skydiving facility to open in the United States, the vertical wind tunnel we use was built in 1982. At Vegas Indoor Skydiving guests will earn their wings and experience bodyflight during a simulated sky dive experience in the heart of the Las Vegas Strip. The experience is similar to the free-fall aspect of skydiving with the addition of a mesh trampoline floor and foam padded walls. Guests are able to experience the sensation of free-fall without the use of an airplane or parachute.
Our mission is to provide a safe and memorable indoor skydiving experience to the general public, understanding that everyone will learn and grow at different rates, adapting to the ability of the flyer, and to encourage their development by sharing our love and knowledge of flight.
We use a vertical wind tunnel to introduce guests to the sport of indoor skydiving. The tunnel produces enough wind to support the weight of an average adult. At Vegas Indoor Skydiving, each guest will attend a brief training class, suit up in all the necessary flight gear, then jump in the tunnel and fly. The entire experience typical takes just one hour. We are located at on Convention Center Drive, half a block from the Las Vegas Strip just north of the Encore hotel.
The wind tunnel itself is 12 feet wide and 22 feet tall, and yes with a lot of practice you can go all the way to the top. The machine is powered by a 1000 horsepower electric motor attached to the propeller from a DC-3 airplane.
Indoor Skydiving is a safe and an addicting fun way for you to taste the thrill of skydiving without an airplane or parachute. No experience is necessary and just about anyone of any age can participate. Before your first flight you will attend a brief training class covering the basics of Indoor Skydiving. After watching a short video, your instructor will teach you proper body position and flight technique, the hand signals used in the wind tunnel, and safety concerns. Your instructor will then help you suit up in a specialized flight suit, earplugs, goggles and a helmet. Once your equipment is all properly prepared your instructor will lead you into the wind tunnel and provide hands on assistance so your flight is as safe and enjoyable as possible. On your first time your entire experience will take about an hour.
Training classes begin about every 30 minutes, reservations are recommended and available with payment in full at least 2 hours in advance, otherwise registration is first come first served. The best time to fly is always early in the day. The more you fly the more you will learn about how to control your body in 120 mph of wind. In one weekend, you can learn the body control techniques that would take months to learn at a drop zone. Just like any other extreme sport, learning to fly takes a lot of practice. The challenge is half the fun! Vegas Indoor Skydiving has served as a valuable training resource for experts and novices since 1982.
RESTRICTIONS
Things to do:
Dress in comfortable clothes with socks and sneakers
Minors are required to have a parent or guardian present during flight training
Things NOT to do:
Flyers are prohibited from participating under the influence of drugs and alcohol
No pregnancy
No previous dislocated shoulders
No previous neck or spinal injuries
No age restrictions – minimum suggested weight 40lbs (18kg)
 Weight Restrictions click here.
Our suggested height and weight restrictions are important. Guests who exceed the maximum weight for their height are not guaranteed to generate enough lift to actually fly. Being outside the weight guidelines is not a safety issue as much as quality of flight. We don't want to take your money and then not be able to provide a high quality experience. Depending on how someone is built, or if they are really tall, we can sometimes be flexible with the maximums. We are often asked why the restrictions are different for men and women, the answer is simply that men and women are built and carry their weight differently.
Feel free to contact us if you have any further questions.
Galleries Coming Soon