VOODOO Zipline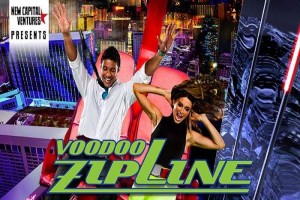 VooDoo ZipLine, a new thrill ride between two of Rio's towers, sends a pair of riders soaring 490+ feet over the Las Vegas Strip at 33 mph.
There are quite a few Las Vegas thrill rides to choose from, but there's only one that can put you 450 in the air on a line; Voodoo Zipline is one of the most memorable and popular Vegas thrill rides in recent memory, and with so many new families and groups coming to visit the city every year, word is spreading that this is definitely the activity to see for yourself.
Words alone can't adequately describe the feeling of soaring between the Rio towers at 33 miles per hour on a secure line. As far as thrill rides are concerned, only Las Vegas can deliver one of the most unique and dynamic rides possible with modern engineering. Deceptively simple in its concept, the Voodoo Zipline is a line that connects the two towers; riders travel down from the higher tower to the lower end, secured into a seat with a buckle and harness. The result is something that's truly breath taking, and not something to miss if you're looking for thrills in Vegas.
Click here to purchase tickets!
Q: What are your hours of operation?
12 Noon to 12 Midnight 7 days a week
Q: What days are you open?
We are open 7 days a week
Q: How many can ride at a time?
The VooDoo Zip Line will send riders flying in tandem, so you may ride alone or with a friend
Q: How tall do I have to be to ride?
All riders must be 48? tall to ride
Q: Is there a weight limit to ride this ride?
Yes, 450 lbs combined between both riders. An individual rider must not exceed 300 lbs
Q: Where can my friends and family go to watch me ride?
The VooDoo Rooftop sports the very best view in the entire city. Your entourage can cheer you on and watch from the patio on the 51st floor as you fly through the air
Q: Are there any special requirements?
All riders must present a valid ID and sign a waiver before riding. All loose items must be removed prior to entering the launch pad. We currently do not allow GoPro, or other handheld cameras, on the attraction.
Galleries Coming Soon