Bali Hai Golf Club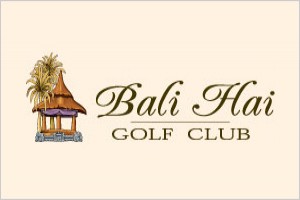 Come find paradise in the middle of the desert at the course GolfWorld readers named one of the "Top 50 Golf Courses in the Country", located right on the world-famous Las Vegas Strip.
It's no secret Las Vegas is home to multi-million dollar five star resorts, lavish and risqué stage productions and a collection of world-class dining options. And though it's a town known for its up-all-night, non-stop, electric atmosphere, there's still a way to experience a relaxing, rewarding day in Sin City without the glitz, glam and neon glow of the Strip - without even leaving it. Immerse yourself in an unexpected South Pacific-style paradise just minutes from the hustle and bustle of the casino floor: The best Las Vegas golf getaway must include a round at the consistently top-rated Bali Hai Golf Club! Reserve your very own Las Vegas tee time, redeem one of our exclusive offers or book one of our luxury-filled Stay & Play golf packages today!
About Bali Hai
Designed by Lee Schmidt and Brian Curley in 2000, the Bali Hai Golf Club is a worthy namesake of the famous Indonesian land of enchantment. The lush surroundings include seven-acres of opulent water features, a total of 4,000 trees with 2,500 stands of towering palms and 100,000 Balinese tropical plants. Transition and out-of-play areas are accented with Augusta white sand and black volcanic rock outcroppings.
The par-71 course measures 7,002 yards from the tips and affords spectacular views of the Strip mega-resorts from the fairways. Bali Hai's unique layout includes teasers like #16, a par-3 island green that frequently comes with an audience from the Cili Restaurant patio and #3, a 468 yard par-4 with a creek running the entire right-side, balanced with a bunker on the left. Play #3 and find out why it's called "Shipwreck." Challenging play, breathtaking scenery and first class facilities make Bali Hai a one-of-a-kind golfer's paradise that Golf Digest named one of the "Top 50 Resort Courses".
The course was designed to go in like a lamb and out like a lion, meaning that the drama and thrills build as player progress along the course.
"We want to give guests an opportunity to loosen up and enjoy their surroundings before we begin challenging their skills," said Brian Curley. "This will be a fun course … you'll know you've been tested, but it won't beat you to death. It's the kind of golf course you could play day after day and never tire of its charm."
Group Outings
The professional Bali Hai Golf Club staff is pleased to assist in planning every aspect of your event. From corporate outings or tournaments to birthdays and weddings, our team of specialists can help you plan the perfect outing. Because of our multiple facilities, Walters Golf is able to align you with the best venues, products and services available in Las Vegas. And all of our locations are conveniently located in close proximity to the Las Vegas Strip.
Below is a list of included amenities, as well as optional additional amenities available to you.
Included Amenities:
Full use of all practice facilities
Develop custom contest holes
Full service locker rooms
Overnight bag storage
Tournament set-up & scoring
Bag handling gratuities
Additional Amenities:
Callaway golf clubs (rental and purchase)
Complete food & beverage services (includes on course beverage service)
FootJoy golf shoe rentals
Optional forecaddies available
Specialized group instruction
Specialized logo merchandise, custom tailored for your event
Shoe shine and spike change facilities
One-of-a-kind gift items in our golf shops
Personalized catering services
Custom photography
Box lunches available
Let our golf outing specialists assist you today at (888) 891-3007 or (702) 450-8009
TESTIMONIAL
Walters Golf already provides the best corporate golf entertainment in the Las Vegas Valley with Desert Pines and Royal Links. Now, they've gone one better with the addition of the tropical golf paradise that is Bali Hai, located right on the gamed Las Vegas Strip. Five minutes after winning money on the 18th, you can be doing the same in the casinos without even changing your shoes!
- David Feherty
CBS Golf Announcer & Former PGA Tour Player
Galleries Coming Soon