Royal Links Golf Club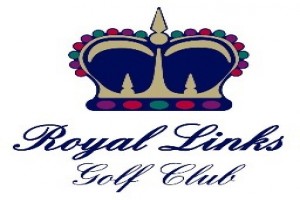 True "Links" style play. 18 holes from the British Isles including the infamous Postage Stamp.
Missed your invitation to play in the British Open? Not to worry! You can still play 18 of the best holes from eleven different British Open rotation courses including Muirfield, this year's host, on Hole #9 at Royal Links. This is not your typical round of golf and is conveniently located less than 9 miles from the heart of the world-famous Las Vegas Strip. Whether you are interested in the history of the game or just want a shot at besting Tiger Woods' course record of 67 (Feb., 2001), Royal Links will provide you with some great golfing memories.
Royal Links was built to honor the rich history and tradition of the game of golf. Designed by Dye International, this links-style course features holes inspired by eleven different British Open rotation courses, including the Road Hole and Hell Bunker from the Old Course at St. Andrews and the Postage Stamp from Royal Troon. Other courses in the loop include Carnoustie, Turnberry, Royal Liverpool, Prestwick, Royal Lytham, Muirfield and Royal Birkdale.royal links golf clubsMonuments were erected at various locations throughout the golf course indicating the spots where great moments in British Open history took place. A Champions Wall stands near the all-turf practice range honoring American champions of the British OpenGolfers may choose to engage the services of a professional forecaddie adding to the "Scottish" experience. These forecaddies are knowledgable about the history of each hole, as well the location of the 108 pot bunkers, some of which are hidden. Walking caddies are also available and are required for those who choose to walk.Royal Links was recognized as the "Best Course in Las Vegas" in the 2006 Review Journal "Best Of Vegas" poll and one of "America's BEST Courses" by GolfWeek.
Click here to book your tee time!
Click Here to Reserve a ParMate!
Royal Links Golf Club is also features the ParMates program, a female caddy service that was designed to add a unique extra experience to your round of golf.
Galleries Coming Soon