Golden Nugget Hotel & Casino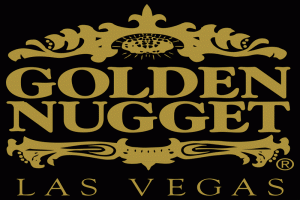 Envelop yourself in our world-renowned Las Vegas Hotel, located in the heart of Fremont Street. Bask in the gorgeously appointed splendor of downtown Las Vegas. We look forward to welcoming you as a guest at our hotel and hope you enjoy your stay here in Las Vegas.
The Golden Nugget Las Vegas is the largest casino in the downtown area, with a total of 2,345 deluxe guest rooms and suites. It is one of only two resorts inside the city limits of Las Vegas to earn th AAA Four Diamond rating. The world's largest gold nugget on display, the Hand of Faith, is displayed in the Golden Nugget lobby. The expanded resort is built around two aquariums. Hotel

Experience the splendor of the best hotel in Las Vegas. Sparing no expense and furnishing every desire, you will agree that the Golden Nugget Las Vegas Hotel is the standard for luxury and comfort. Envelop yourself in our world-renowned Las Vegas Hotel, located in the heart of Fremont Street. Bask in the gorgeously appointed splendor of downtown Las Vegas. One look inside and you'll understand why the Golden Nugget Las Vegas Hotel has earned the AAA Four Diamond Award for 35 straight years. The Golden Nugget's three towers offer spectacular views of both the Las Vegas strip and the aquariums below. Standard amenities include bell service, safe boxes, and express checkout.
Casino

Some good things never come to an end. Like the non-stop games in the beautiful casino at the Golden Nugget. They've got hundreds of slot machines, including progressives that pay out some of Las Vegas' largest jackpots. Plus dozens of table games, including classics like blackjack and craps, and plenty of new favorites such as Three Card Poker and Let it Ride. If you're unfamiliar with a game that you'd like to try, need help with a payout or just have a question, talk to any member of the gaming team for excellent service.
Food

From fine dining to casual fare, delectable flavors await your every appetite. When you eat, you will have servers who treat you like royalty, sumptuous surroundings, and of course, food fit for the finest tastes at seven distinct restaurants. Included is a classic Las Vegas buffet with hundreds of choices, a seafood restaurant with an amazing aquarium centerpiece, contemporary Asian cuisine with the excitement of Teppanyaki tables, a vintage steakhouse, a hearty Italian trattoria, a red hot sushi bar and a casual 24-hour café
Nightlife

Welcome to where the warm night air and an icy glass brush shoulders. At Golden Nugget bars and lounges, you can wind down a perfect day or launch a night of adventure with friends new and old. Whatever brings you there, they'll welcome you with a host of special events. Check back from time to time to see what they have to offer. There's always something new to discover. Headliners, up-and-comers, and classic Las Vegas production shows regular perform at the Golden Nugget. The newly renovated 600-seat showroom packs excitement and entertainment all under one roof.
Frequently Asked Questions

Do you offer any discounts?
We offer a 10% discount for AAA, AARP, Active Military, or Federal Government Employees. The discount applies to our Carson Tower deluxe accommodations.
Do you charge resort fees?
As of January 19, 2015, the Golden Nugget will have a $20+tax/night resort fee. The resort fee includes: access for two to the Fitness Center daily (does not include the wet areas), basic, in-room daily Internet access for 2 devices daily, two bottled waters, daily (waters will be located in the guest rooms), complimentary parking, complimentary airline boarding passes printing via the Front Desk or Box Office 24/7, complimentary newspapers in your respective tower lobby from 6am to 10am daily plus downtown destination coupons. Reservations made prior to January 19, 2015 will not be charged. However, you do have the option of purchasing the package should you choose to do so.
What is the Downtown Destination Fee?
For reservations made prior to January 15, 2015, guests will incur a daily $5 Downtown Destination Fee plus applicable taxes added to the room rate payable directly to the property. The Golden Nugget Hotel has been and continues to be a major contributor to the Downtown Las Vegas community including the free sound and light shows and other features right outside our doors. This fee will allow you to continue to enjoy all of the attractions and highlights that Downtown has to offer and continues to improve for your pleasure. In addition, all Golden Nugget guests will receive a savings pass upon check-in featuring exclusive discounts at many downtown businesses, museums and amusements.
Does your rate accommodate more than one person in the room?
Our rates are based on single or double occupancy. There is a $25 additional charge per person, per night, regardless of age. Maximum occupancy is four persons.
How old do you have to be to check in?
Our minimum age requirement for check-in is 18 years old. The legal age for drinking and gambling in Nevada is 21, however we do allow guests 18 years of age or older to book a room.
Do you have Air & Hotel packages?
At this time we do not have a direct affiliate for hotel and air packages. There are dozens of online resources and/or travel agents that can provide a package for you that will include accommodations at the Golden Nugget. If you would like to research pricing the room and air separately, you can obtain our current rates for rooms at www.goldennugget.com
What amenities are in the rooms?
ALL of our rooms are equipped with a hair dryer, in-room safe, an iron and ironing board. Wireless internet is available at an additional cost of $14.99 per 24-hour period (included in the cost if guest has paid a resort fee). Coffee makers are available in our standard rooms at a cost of $10 for 4 cups of coffee. Complimentary coffee and refrigerators are available in our suites only.
Do you have a workout facility?
Our Spa and Salon offers a complete workout facility which is available to our guests (access to dry spa areas is included in the resort fee).
Do you offer a best rate guarantee?
We do have a Best Rate Guarantee policy. Should you find a lower rate publicly available on the internet, we'll match that rate and reward you with an extra 10% off. To take advantage of the policy, you must first book a reservation directly on our website and fill in the Best Rate Guarantee claim form. The form must be submitted within 24 hours of making the original reservation through the www.goldennugget.com branded website or calling the Reservations Department at 800.634.3454. A printout of the screen or a screenshot of the third party booking that proves availability and rate (i.e. the credit card information page that shows the rate, room type, dates, etc.) must be submitted with the form. You do not, however, need to book the rate. Here is the link for the Best Rate Guarantee form: http://www.goldennugget.com/LasVegas/pdf/guarantee.pdf The process is time sensitive so please book and submit the form as soon as possible. This best rate guarantee only applies to individuals and does not apply to group bookings.
Can I check in early?
Our standard check in time is 3 PM and our check out is at 11 AM. Should you arrive early, please inquire with the Front Desk whether clean rooms are ready and available. The Front Desk will check you in based on availability. You may also store your luggage with our Bell Services until rooms become available. If you wish to request a late check out, please contact the Assistant Hotel Manager the morning of your departure date.
Do you offer shuttle transportation to and from the airport?
Yes actually, we have partnered with Airline Shuttle (AS) to provide our guests with an exclusive non-stop direct shuttle service to and from McCarran Airport. All guests arriving at McCarran Airport Terminal 1 will exit Door 8 (eight) from baggage claim and Terminal 3 will exit Door 51 (fifty-one) from baggage claim. Roundtrip from McCarran or GNLV is $18.00. One way from McCarran is $9.00 + $1.00 airport fee = $10.00. Our bell desk can also set up a shuttle for your return trip to the airport, but they do need a 24 hour notification. Book your Airline Shuttle. There are also taxi cabs that can drop you off at the front doors of the Golden Nugget. Taxi rates vary but on average cost approximately $40 for up to 4 people.
Do you offer shuttle transportation to and from the Strip?
Unfortunately, we do not provide any type of hotel transportation. There is a city shuttle called the "Deuce" bus that has a regular route up and down the Las Vegas Strip. The Deuce bus costs $3 per person for a one way pass or $7 for an all-day pass. There is also a new Bus Route called the "ACE EXPRESS" which takes you down to the convention center and also to the Strip. The bus stop to the Strip is located on Fremont St. and Casino Center Blvd. Our bell desk can also help you set up a limousine with an outside limousine company of your choice. Taxi cabs are another option, and can be easily accessed through our Gold or Rush Tower Entrances. A cab can only take a maximum of 4 people. Please see one of our wonderful doormen for more info on taxi cabs.
What is your incidentals credit card authorization policy?
For our standard rooms, our normal authorization is $50 per stay for incidentals and security. We cannot accept a debit card or cash deposit for the authorization; if you use a debit or cash your money will be physically held by the front desk. A debit card may take up to 30 days for the release of the funds provided for the incidentals. A major credit card has the ability to release immediately upon your departure from the hotel. Suite reservations require a higher authorization amount.
Does your hotel offer parking?
We have complimentary parking for registered guests at the hotel. Our self-parking garage is located on the south side of the hotel on 1st Street and Bridger. Vehicle Height Restriction is 6 feet and 7 inches. We have two locations for valet parking. The first is located at the Gold Tower entrance of the hotel on the north side, directly off of Casino Center Blvd. Our Rush Tower also has Valet parking available.
Are you a pet friendly hotel?
We have a limited number of rooms available that will accommodate pets and must be reserved in advance. The only other animals allowed on property are service animals (i.e. Seeing Eye dogs or K-9 police). Please contact us at (800) 634-3454 for more information and rates.
Where can I purchase gift cards/certificates?
To purchase gift certificates, please contact our business center directly. They are open daily from 7am - 3pm, Pacific Standard Time. Gift Cards are also available at our Retail stores or for purchase online by clicking on this link: http://www.landrysrestaurants.com/pages/giftcards/pg_giftcards.html
Are children allowed at the hotel?
Yes. You may bring children to the hotel and they may use most of the hotel amenities such as the pool, restaurants and video arcade. Children under 21 are not permitted on the casino floor.
Do you offer coffee in my room?
Keurig coffee makers are available in all of our rooms at a charge of $10 for 4 cups of coffee. We also have 24 hour room service available, as well as two Starbucks coffee locations on property.
Do you have Tickets & Hotel Packages?
We do not have a package for rooms plus tickets to your event. There are dozens of online resources and/or travel agents that can provide a package for you that will include accommodations at the Golden Nugget. If you would like to research pricing the room and tickets separately, you can obtain our current rates for rooms at www.goldennugget.com.
Do you have handicapped accessible rooms and wheelchairs?
We do offer handicapped accessible rooms in all three towers. Wheelchairs are available for $10/day on a first-come, first-serve basis. We also have scooters for rent at the hotel. The rates are: 1-day $42, 2-days $75, 3-4 days $110, and 5-7 days $135 For reservations and more information about scooters, please contact our Bell Desk at 702-386-8133. Rates are subject to change without notice.
Do you offer Laundry services?
The Golden Nugget does not have on-site coin-operated self service facilities. We offer a Laundry Valet Service through our Bell Desk. I
Galleries Coming Soon