Frankie's Tiki Room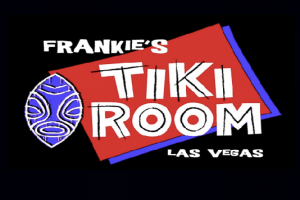 Cozy, kitschy tiki bar with creative, fruit-based rum drinks, hand-carved furniture & bamboo decor.
CLICK HERE TO VIEW OUR DRINK MENU!
Frankie's Tiki Room is a unique combination of south seas exotica and modern primitivism, with just a hint of Las Vegas kitsch. One hundred percent original and deeply rooted in tiki tradition, Frankie's is the place where you can escape to the fantasy any hour of the day or night. Where you can order up your buzz from the menu of exotic rum drinks in the tiki lounge, or enjoy traditional cocktails while gambling at the bar in classic Las Vegas style.
The interior of Frankie's was built by Bamboo Ben, the world's foremost tiki bar designer and grandson of Eli Hedley. Eli is remembered as the original beachcomber, scavenging from the sea to create the decor at such fabulous destinations as Walt Disney's Enchanted Tiki Room, and the Las Vegas classic Aku Aku at the Stardust.
Frankie's link to Las Vegas' tiki past also includes original carvings by Tiki Bosko, who created exotic works of art not only at the Tropicana, but also the short lived but sorely missed Taboo Cove at the Venetian. Frankie's signature tiki is a monstrous island warrior by Crazy Al Evans, surrounded by extraordinary carvings by Tiki Ray and the much revered godfather of all tiki carvers, Leroy Schmaltz.
Many of the top artists in the world had a hand in creating Frankie's unique vibe. The offbeat designs of the souvenir tiki mugs are unprecedented. And the 'Vice Tester' carnival game, designed and built by Shag, must be seen to be believed.
This remarkable combination of traditional carvings and lowbrow art, along with a soundtrack which bounces from exotica & surf to grind & garage makes Frankie's Tiki Room an amazing one of a kind experience. This bar will absolutely blow your mind.
CASINO
You don't have to go to the Strip to win big money. Winners at Frankie's cash out thousands of dollars every day playing. Why gamble in a casino full of blue haired mudcrabs when you can be part of the scene at The Happiest Place On Earth? Add your e-mail address to our preferred player list so you'll never miss out on our special promotions.
VIDEO POKER
BLACKJACK
KENO & SLOTS
Add to your winnings with our daily Power Card bonus plus all the benefits of DOUBLE DOWN REWARDS, the most generous slot club anywhere.
Free Money. Free Swag.
Always Free Something.
Centrally located a few short blocks West of Las Vegas Blvd, and just 2 blocks West of the I-15 freeway. You can't miss it. Just look for the pink neon.
Galleries Coming Soon