Joe's Seafood Prime Steak and Stone Crab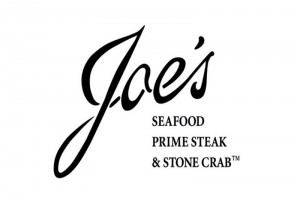 The best prime steaks. The freshest seafood. World famous stone crab. What are you waiting for?
Joe's Seafood, Prime Steak & Stone Crab is famous for Florida Stone Crab Claws. They are hand-harvested and day boat caught from the Gulf of Mexico and processed at fisheries owned by our partners in Miami. They are sped to our restaurants, where they are cracked and served chilled with Joe's Mustard. They are best enjoyed with Joe's signature sides, like Cole Slaw, Grilled Tomatoes, Hashed Brown Potatoes and Creamed Spinach. Having gained a reputation as a world-class steakhouse, Joe's serves prime Midwestern grain-fed beef. Best known for the 16 oz, Bone-in Filet Mignon, Joe's also offers a dry-aged 24 oz. Bone-in Rib Eye, in addition to many other hand-carved steaks. Joe's features a wide selection of fresh seafood, sourced direct and served in season. Alaskan Halibut, Copper River Salmon and Nantucket Cape Scallops are among the most anticipated seasonal seafood offerings. A highlight of the dining experience is the tableside service with Dover Sole fileted to order and Jumbo Alaskan King Crab Legs, which are prepared tableside for guests to enjoy. Guests have come to love dishes like the Seafood Chopped Salad, Classic Cheeseburger and Fried Chicken. No visit to Joe's is complete without a slice of freshly baked pie. Offerings include Havana Dream Pie, Banana Cream Pie with Foster Sauce and Joe's world famous Key Lime Pie.
HISTORY OF JOE'S
The legendary Joe's Stone Crab first opened in Miami Beach in 1913. It all began when Joseph Weiss, the "Joe" of Joe's Stone Crab, and his wife Jennie set up seven or eight tables on the front porch of the house they owned. 100 years later, Joe's has become one of the most beloved and widely recognized restaurants in the world, famous for its Florida Stone crab, signature sides and Key lime pie.
In 2000, a partnership was born between the Sawitz/Weiss family and renowned restaurateur Richard Melman, founder of Lettuce Entertain You Enterprises (LEYE). Based in Chicago, LEYE, is one of the nation's leading independent restaurant groups, owning, managing and licensing nearly 100 establishments. Together they opened Joe's Seafood, Prime Steak & Stone Crab in Chicago, a restaurant featuring a selection of prime steaks, quality seafood and the signature dishes of Joe's Stone Crab. The restaurant quickly built a reputation as one of the most popular restaurants in Chicago.
In 2004, Joe's premiered in Las Vegas at The Forum Shops at Caesars and soon became one of the most sought after dining destinations on the Strip. We are now excited to call our nation's capital home, as we celebrate the 100th anniversary of the original Joe's Stone Crab. Joe's Seafood, Prime Steak and Stone Crab, opened January 2014, at 750 15th Street NW, Washington, DC, in the heart of the District, just steps from the White House.
Galleries Coming Soon