Toscano Italian Resaurant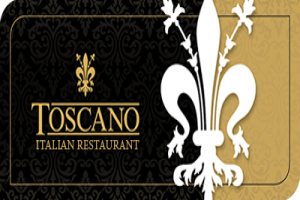 Located just behind the famous Las Vegas Strip on the Paradise Restaurant Row, Toscano Italian Restaurant provides a truly unique upscale dining experience to the Las Vegas dining scene.
At Toscano's, old-world architecture and time-honored Italian traditions create a memorable experience for all. Toscano Las Vegas Italian Restaurant features nightly live entertainment in our lounge by some of Las Vegas's finest singers performing soft jazz, Sinatra standards and timeless hits from over the ages. Enjoy your romantic evenings with relaxing music, a great happy hour menu and late night specials for whatever time you experiences Las Vegas's jewel behind the strip.
We feature USDA Prime steaks from the finest suppliers around the country. Using fresh ingredients and fresh house made pasta, we create flavor-filled masterpieces of Italian classics and French favorites. Choose your favorite dessert flambéed tableside.
Special Events
Make your larger dinners, business meetings or holiday events intimate, festive and memorable! At Toscano Italian Grill, attentive service in our unique setting paired with incomparable cuisine will make your event a success no matter whether you use our large ballroom or one of several meeting spaces. Our unique restaurant layout allows us to provide smaller groups of 25 to 50 multiple rooms to choose from. We always provide our undivided attention to the success of your event, and our service and culinary staff will execute all of the details that matter to you and your guests most.
Group Events from 8 – 50 Corporate or social events for groups of eight to fifty people can be customized in many ways. Pick the restaurant dining room that's best suited for your group's particular needs. Then choose from a variety of menu selections or further customize your menu to match tastes and dietary needs.
Private Events from 25-400 Can large gatherings be intimate and attentive? They can be when they are held at Toscano Italian Steakhouse where our attention to detail is superb, no matter the number of guests. We work closely with you to make sure the event is customized to your special needs and want.
Galleries Coming Soon