Bertolucci Brazilian Steakhouse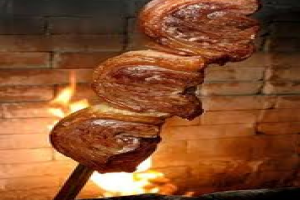 At Bertolucci Brazilian Steakhouse, we are focused on providing the best food service with the highest levels of customer satisfaction & we will do everything we can to meet your expectations. With a variety of salads, hot dishes and meats to choose from, we're sure you'll be happy to come visit us. Look around our web and if you have any comments or questions, please feel free to contact us. We hope to see you again! Check back later for new updates to our website. There's much more to come! Why us? We have entertainment!!! Here at Bertolucci Brazilian Steakhouse, you will not only come to eat, you'll come to entertain and have fun with friends! We have Karaoke every day, come to sing and enjoy!
Humberto Bertolucci and Patricia Corassini have turned Bertolucci Brazilian Steakhouse into a Authentic Brazilian Steakhouse. And what exactly does that mean? It means a new menu that is an all-you-can-eat Rodizio. Rodizio is a fixed price meal where waiters bring skewers of meat to the table which is then delicately sliced onto the plate. An outstanding food with homemade taste and impeccable service. Enjoy!
The dinner Rodizio is served from 4pm – 10 p.m. and features Top Sirloin Cap, Tri Tip, Pork Loin, grilled marinated Chicken, bacon-wrapped Chicken, Flank Steak, Lamb Chop, Leg of Lamb, Filet Mignon, and Brazilian sausage. A large salad bar has a wide variety of salads like potato salad, Caesar salad, chicken salad, tuna salad, fresh vegetables, Caprese salad, cheese and fruit trays and changes everyday. Additional dishes/hot plates that change everyday also are Lasagna Bolognese, sautéed vegetables, fried yucca, fried polenta, Chicken Marsala, Filet Mignon Tips, Stuffed Roast Beef, Stroganoff, and Feijoada, a national Brazilian meat and bean stew made with black beans and a mix of beef and pork. Desserts: Brazilian Flan (pudding) and/or fruit salad are included in the price.
* ALL PROMOTIONAL COUPONS/CERTIFICATES/DEALS: YOU CAN USE JUST 1 PER TABLE, NO EXCEPTIONS. THANK YOU. DRESS CODE: CASUAL FOR A FINE DINING RESTAURANT. MEN: PLEASE NO FLIP-FLOP, NO T-SHIRT WITHOUT SLEEVES. * RESERVATION IS REQUIRED
Dinner time: Tue - Sun: 4pm - 10pm Price: $ 43.99 per person
- Drinks are not included in the price- Our restaurant has a very cozy and friendly atmosphere
- From here, you can see an amazing view of the Strip- We have karaoke system that integrates everyone in a festive and amusing atmosphere.
- We have full bar with variety of drinks including our famous "Caipirinha" made with the most traditional Cachaca from Brazil.
- We have a large parking lot- Plus: Our chef (Humberto Bertolucci) often sing, dance and entertain everyone with his charisma and friendliness.
Bertolucci Brazilian Steakhouse 2895 N. Green Valley Parkway, just north of Sunset Road.
Phone: (702) 458-0080
The place to eat, drink, relax and enjoy!
Galleries Coming Soon