Carson Kitchen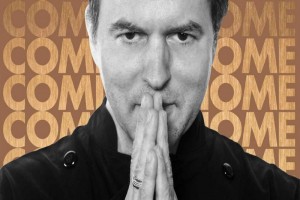 Rock star chef Kerry Simon ventures to the burgeoning downtown Las Vegas restaurant scene with affordable, upscale comfort food - Gourmet burgers, flatbreads & other small plates in sleek digs with a rooftop patio for live music.
"Rock 'n' roll chef" Kerry Simon (Prime, Simon Kitchen & Bar) brings his gourmet comfort foods – beef Wellington empanadas, jerk turkey burgers, wild mushroom flatbreads – to this Downtown American in the former John E. Carson Hotel space. On the drinks side, microbrewed cocktails and an array of small-batch brews and global wines. The moderately priced lunch and dinner small plates are dished up in a loftlike interior, now rustic-chic with lots of reclaimed wood and steel, plus a rooftop patio with live music.
Named 2015 'BEST NEW RESTAURANT' by Best of Las Vegas
Named 2014 'BEST NEW CASUAL RESTAURANT' by Vegas Seven
Voted Top Gyros in Las Vegas by CBS Local
Celebrity chef Kerry Simon offers his own creative take on the traditional gyro at this inventive downtown restaurant: gyro tacos. Made with lamb, tzatziki, cucumber and tomato, the starter dish is perfect for sharing and priced at just $10. One bite and guests will realize why Carson Kitchen has been hailed as one of the city's best new restaurants—everything on its menu is scrumptious!
Galleries Coming Soon