Rhythm Kitchen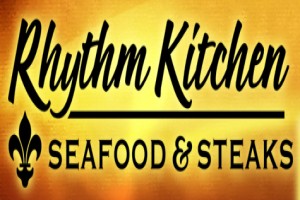 Contemporary space offering crawfish étouffée & other Louisiana French Creole & Cajun-style dishes.
For the ultimate dining experience, unique food, fun and hospitality complete with what we believe to be the most delicious first class menu, with dishes that will delight even the most critical palate.
The sauces, spices and freshness of every ingredient and pride of the chef and staff is evident in every Rhythm Kitchen creation, from American fare, Cajun, French Creole to fresh seafood prime steaks, pasta, desserts, and specialty drinks from the bar we offer something for every one.
Our menu has a wide variety where anyone can find something to their liking and is ideal for any occasion.
Our extensive wine list has been carefully selected to compliment the menu. We offer several wines that were discovered while visiting the magnificent wine regions of America.... California,
Whether you enjoy the flavors of the new or old world styles, we are confident you will discover what you are looking for here at the Rhythm Kitchen. Rhythm Kitchen is open Monday to Sunday 4:00 pm for Happy Hour and 5:00 for dinner, Happy Hour Specials Monday to Friday from 4:00pm to 6:30pm and Saturday and Sunday's Happy Hour is also from 4pm to 6:30pm.
Galleries Coming Soon