Patty's Closet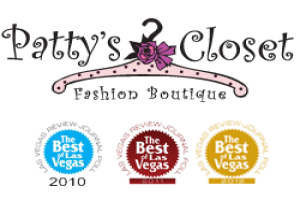 "The truth is, when you're a kid everyone tells you what you love, yet not many of us seem to listen. My name is Patty, and I am living a dream in my closet."
Check our website for store locations and business hours:
iLovePattysCloset.com
Patty's Closet was the first boutique in Las Vegas with the Boutique setting and retail price concept.

Established in 2007, we now have 6 locations in the Las Vegas Valley with completely different selections! We have expanded and now have locations Portland, OR; Englewood, NJ; Kaneohe, HI; Mililani, Hi; and Anchorage, Alaska.

Visit our website for business hrs, location addresses, and store's numbers!

We carry only 2 smalls, 2 mediums, and 2 large in each style, and the same styles are never reordered, ( for those of us who hate seeing others in the same outfit)

Our fashions and accessories have been seen in numerous magazine photo shoots, and fashion shows, as well as on many local celebs, we have been seen on Fox 5 news, the MORE show, News 8 and talked about on 98.5 Kluc, Hot 97.5, Mix 94.1 and 97.1 The Point.

Patty's Closet believes in extending out love to it's community, and is involved in many charities such as....Southern Nevada Children First, New Vista Community, Best Buddies of NV, DSOSN, Joy Prom, United Blood Services, Heart Association, Prom Closet.


In visiting our website, I wanted you, The customer to know our story,the beginning of our dream. As a kid, my dream was to have some type of career in fashion, well, let's just say there were other plans in store for me. I had a son at a very young age, and didn't bother to pursue my dream in order to take care of him…that is until I met my prince charming, my husband, Juan. His dream was to own his own business, so we combined them and….TADA! Patty's Closet Fashion Boutique was born.
The Concept: I was brought up to be a very savy shopper, so we came up with the idea of having a store with the boutique concept, but with the prices a big retailer can offer….so we only carry 2 small, 2 medium,and 2 large of each style. Once we have sold out, we bring something different, therefore decreasing the possibilities of seeing someone else with your outfit.The stores, are boutique style, each a piece of art, they all have different themes, so they look different and they all carry different selections. I like to compare them to a box of chocolates, you don't know which to pick because they all taste different, but they all look so good! Our prices are very affordable, our dresses start at $25 and up, tops and bottoms $17 and up…we also have great shoes and accessories, and remember, all different, at all locations! At the moment we have 7 locations, in the Vegas Valley, one in Portland, OR, and we are in the works of more.We have been awarded " The best women's clothing store in Las Vegas" in the Review journal's 2010-2011-& 2012 Best of poll, and " The Best Place to buy a party dress" in the LV Weekly 2010 Best of issue.We have been featured in many news reports and publications, and hope to continue to grow like a wildfire! We have become very involved in the community, I am a Vegas native, and we take a lot pride in our great city! We support many organizations such as, Best Buddies of NV,; Down Syndrome Org. of So. NV, New Vista Community,Heart association, United blood services, Breast cancer research, and we volunteer at many schools around the valley. We feel blessed to be able to share our dream with you, and hope we live up to your expectations, and truly deliver only The Best!Hope to see you in in my Closet soon!
XOXO..Patty Barba
Galleries Coming Soon