Executive Tattoo Lounge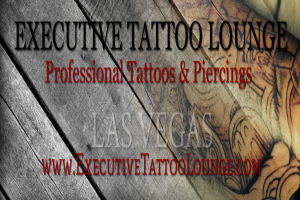 Looking for a great night out on the town? Looking for something unique to show off when you get back? Well then, some new ink sounds about right for you!
Executive Tattoo Lounge gladly introduces the baddest ink on the strip with stunningly competitive prices! Executive Tattoo Lounge and Sin City Ink have over twenty certified specialists accessible for the differing tattoo styles you require.
It's time to get that tattoo you've been dreaming of from the best portrait artist in the world. Located in downtown Las Vegas, Executive Tattoo Lounge will do anything and everything you can imagine. Wanted to get Abe Lincoln smoking a stogie with John Wilkes Booth? Done. How about The Godfather with a horse head next to him? These tattoo artists can do it all. Flawlessly and to your satisfaction. The tattoo artists here have the most passion and are the absolute best at their job. The business was established in 2010 and has flourished since day 1. They have been featured in magazines and articles. The tattoo shop has over 20 certified artists who take their job seriously. They treat their clients with respect and make the whole experience a positive one. They are very highly experienced in this field. Come down today and have fun! This is the most amazing tattoo parlor ever.
There is a new school tattoo style that has been steadily growing in popularity this unique method is watercolor tattooing. Watercolor is a way of painting that uses water and paint pigments to create a masterpiece of opaque and transparent pieces, instead of using oil based paint it is water-soluble.
The same goes with this style of tattooing, giving the impression that the tattoo was painted with brush strokes rather than a tattoo gun. If done correctly it will have the appropriate watercolor drips and brushstrokes to make it look as though the artwork is identical to real painting.
The most typical watercolor tattoo designs are flowers, although there are many other subjects that can be demonstrated in the art form. The color usage is extraordinarily different then regular tattoo art, due to the light feather strokes and bright colors. These eye-catching works of art are becoming more favored as the watercolor tattoo designs become more common.


If you like piercings, or tattoos, then you have found the right place. The prices are very affordable and you will have access to the most professional and amazing staff in the Las Vegas area.
When you choose our tattoo shops, you choose the best decision of your life! The best tattoo artists will cater to your artistic needs. Explain the idea you have to them and they will draw you that perfect picture right off your mind with their expertise -


When you sign up for your first appointment, not only do you get a Vegas style club tattoo, but also some great aftercare advice to go with that bad ink!

When you get your first Las Vegas ink you are bound to satisfy that longed for itch.
For answers to any questions you may have, please call (702) 674-6144
Galleries Coming Soon