"O" Cirque du Soleil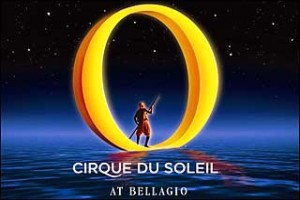 Bellagio proudly hosts O, Cirque du Soleil's exquisite aquatic performance uniquely presented by an international cast of world-class performers.
Cirque du Soleil weaves an aquatic tapestry of artistry, surrealism and theatrical romance in the timeless production, "O". Inspired by the concept of infinity and the elegance of water's pure form, "O" pays tribute to the beauty of the theatre - from the simplest street performance to the most lavish of operas - where anything is possible and where the drama of life plays itself out before our very eyes. World-class acrobats, synchronized swimmers, divers and characters perform in, on, and above water to create a breathtaking experience. Only at Bellagio, Las Vegas.
O, pronounced the same way as eau, the French word for "water", takes place in, around and above a 1.5-million-US-gallon pool of water, featuring water acts such as synchronized swimming as well as aerial and ground acts. The O theatre, which is designed to look similar to a 14th-century European opera house, has 1,800 seats, thus allowing the performance to be watched by 3,600 people a night since the performance usually plays twice in a given day, also designed to meet the special demands of the show.
O is inspired by the "infinity and elegance of water's pure form," which pays tribute to the beauty of the theater. A group of 150 stage technicians assist in the production of the show, the cast of which is 85 performers: international acrobats, synchronized swimmers, and divers. Some of them former Olympic athletes.
WHAT THE MEDIA SAYS ABOUT THE SHOW
" 'O' is liquid magic…" Los Angeles Times
" 'O' is forever…" Time Magazine
" 'O' defies description…as spectacular and inventive a live show as you're likely to find anywhere in the world right now…" Chicago Tribune
Q: How long is "O"?
A: "O" is 90 minutes long, not including an intermission.
Q: Is "O" appropriate for children?
A: The minimum age to attend "O" is 5 years old. Please note that "O" uses loud sounds and periods of darkness which may frighten some children.
Q: Does "O" tour different cities?
A: "O" is a permanent show at a fixed location, and therefore does not tour. "O" was created for Las Vegas, and is performed in a theater built specifically for the show.
Q: How far in advance may I purchase tickets for "O"?
A: Tickets for "O" are available four months in advance of a performance.
Galleries Coming Soon