Blue Man Group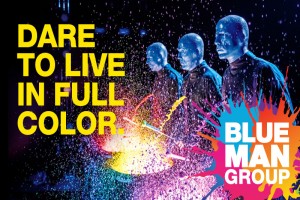 Blue Man Group is comedy, theater, rock concert and dance party all rolled into one. You'll be closer to the action than ever before at the specially designed Blue Man Theater at Luxor Hotel and Casino. It's an outrageous multi-sensory experience you'll never forget. New music, new design, new technology and a new finale to bring the entire audience together for a euphoric celebration of life in full color.
Click HERE to Save up to 30% off performances now through 12/31/2016
Click HERE to Save up to 30% off performances starting 1/1/2017 through 4/23/17
*All Ticket prices listed include LET, additional service fees apply.
*ADA seating is available throughout the theatre in every price category.
SPECIAL PACKAGES avialable

Behind the Blue Experience: $55 add-on to any ticket category
Go behind the velvet rope with our most exclusive experience to date, Behind the Blue. The 90 minute behind-the-scenes tour is available nightly prior to the first performance of the night. Guests will get an inside perspective of what it takes to put on an award-winning Las Vegas production, a backstage journey through the colorful world of Blue Man Group with a tour of the show's wildly inventive instruments and props and exclusive access and viewing of our nightly sound check with the cast and crew from that evening's performance.
Package must be purchased before 2pm on the day of the show you wish to attend.
For more information or to book an experience call 1-702-262-4400
VIP Experience: $175.00
Get up close and personal with Blue Man Group as you never have before - enjoy premium seats to the show, private meet and greet with cast members, complimentary drink, and luminescent merchandise item.
Package includes:
Category A: Premium ticket
Private post show meet & greet
Blue Man Group Souvenir
Complimentary Drink
Package must be purchased before 5pm the day of the show you wish to attend.
For more information or to book an experience call 1-702-262-4400
POST SHOW MEET-AND-GREET
Don't forget to bring your camera. Guests may join the Blue Men and the band in the theater lobby after every performance. Share your #DareToLive moments with us on Twitter @BMGVegas.
GROUP DISCOUNTS
Special rates are available for groups of 10 or more by calling 702.697.1655.
LED REQUESTS
To request a name be added to the LED line, call 702.697.1620 or email partnerservices@blueman.com at least 48 hours prior to the performance time.
Where is the theater? Located inside Luxor Hotel and Casino
How long is the show? One hour and thirty minutes with no intermission.
Is there a dress code? No, there is no dress code for the show.
Is there an age limit? 3+ are recommended, but all ages are welcome.
Are we allowed to take photos during the show? Photos are not permitted during the show, but guests can take their photo with the Blue Men and band members after each performance in the lobby of the theater.
Is there anything else I should know? Theatrical fog and strobe lights are used several times during the show. Guests who are sensitive to strobe lights should be aware of this before purchasing tickets. If a guest who is sensitive to strobes attends a performance, they should alert the House Manager when they arrive.
?rel=0&showinfo=0" frameborder="0" allowfullscreen>
Galleries Coming Soon