JERSEY BOYS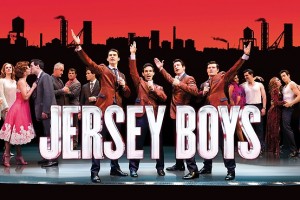 Four rough-and-tumble kids from New Jersey become the biggest musical act in the world in this heartwarming, engaging musical. The hit is based on the true story of Frankie Valli and The Four Seasons. The smash Broadway musical Jersey Boys combines comedy, drama, dancing and live music with some of the most enviable voices on the Las Vegas Strip.
Beginning in the '60s, the story follows the up and down lives of four blue collar boys and their rise to fame, captivating the public with hits such as "Big Girls Don't Cry," "Sherry" and "Can't Take My Eyes Off Of You." Their rise to glory isn't without turmoil, fights, jealousy, and sacrificed personal relationships. The men ultimately come together, united through their childhood bond, East coast roots and unique success story.
Rarely can a musical pull off all the elements necessary for truly jaw-dropping entertainment. Jersey Boys delivers from beginning to end; causing even the most skeptical showgoer to give a standing ovation as the curtain falls.
JERSEY BOYS is the #1 Rated Show in Las Vegas and the "Must see show of the year!" according to the Las Vegas Review-Journal. The musical phenomenon JERSEY BOYS, the story of Frankie Valli and The Four Seasons at Paris Las Vegas, is the only place on the West Coast to see this runaway hit that has taken Las Vegas by storm. JERSEY BOYS is the story of how a group of blue-collar boys from the wrong side of the tracks became one of the biggest American pop music sensations of all time. They wrote their own songs, invented their own sounds and sold 175 million records worldwide - all before they were thirty. The show features hits such as "Sherry," "Big Girls Don't Cry," "Can't Take My Eyes Off of You," "Oh, What a Night" and many more. Presented in Las Vegas at Paris Las Vegas, it is the same production fans all over the world have come to know and love.
WHAT THE MEDIA SAYS ABOUT THE SHOW
"Tap your feet to the music of Jersey Boys, the acclaimed Broadway hit about Frankie Valli and the Four Seasons." Fodor's
"The Tony-award winning musical Jersey Boys, a cinematic journey through the lives of The Four Seasons, has found a new home at Paris Las Vegas." Caroline Fontein, Vegas.com
"The production, which is brilliantly staged with genius execution, rockets along at jet-smooth speed and one moment you're laughing and the next tears well-up." Robin Leach
"Mesmerizing." LOS ANGELES TIMES
Q: Is the show appropriate for my 5-year old? 
Jersey Boys may be inappropriate for children aged 12 and under (strong language).  No children under 5 will be admitted to the theater.
Q: Can I smoke in the Theatre?
No smoking in the theatre; patrons may go outside during intermission.
Q: Can I take photgraphs of the show?
Absolutely NO recording devices are allowed in the theatre, including still cameras
Galleries Coming Soon