KA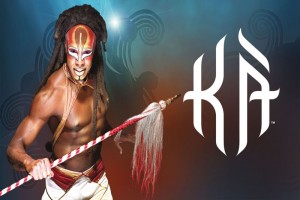 KÀ, the unprecedented epic production by Cirque du Soleil takes adventure to an all new level. Be awed by a dynamic theatrical landscape, as an entire empire appears on KÀ's colossal stage. Live at MGM Grand, Las Vegas.
KÀ by Cirque du Soleil tells a heroic tale of twins who embark on an adventurous journey to fulfill their destinies. Witness some of the most innovative, gravity-defying feats ever performed as danger lies in wait for the twins at every turn. Rivals spin through the air in a captivating display of perpendicular acrobatics and aerial adventure. Experience love and conflict throughout dynamic theatrical landscapes in an ever-changing environment that conjures an entire empire on stage. Live at MGM Grand.
KÀ features 80 artists from around the world, and is a gravity-defying production featuring a powerfully emotive soundtrack that enhances the innovative blend of acrobatic feats, Capoeira dance, puppetry, projections and martial arts.
In its review, the Los Angeles Times stated it "may well be the most lavish production in the history of Western theater. It is surely the most technologically advanced." The New York Times highly praised all the technical aspects and costumes, but felt that it did not succeed in a particularly compelling story, rather it was "essentially about the kind of wild physical feats that all Cirque shows are about, their jaw-dropping effect multiplied by the huge dimensions of the theatrical space. The show has been seen by more than one million spectators since its opening in October 2004.
Children between the ages of 5-12 enjoy a discount on the purchase of KÀ tickets, however they must be accompanied by an adult. Children under 5 years of age are not admitted to the show.
WHAT THE MEDIA SAYS ABOUT THE SHOW
"In KÀ the acrobatics and dazzling special effects are stunning and enchanting" LA Times
"Bigger than Vegas" TIME Magazine
"KÀ at MGM Grand is an elaborate production involving acrobatics, martial arts, puppetry and pyrotechnics." Forbes Life
Click Here to View to view show times and BOOK NOW!
Q: How long is KÀ?
A: KÀ is 90 minutes long, not including an intermission.
Q: Is KÀ appropriate for children?
A: Children must be 5 years or older to see KÀ. Please note that the show uses loud noises and periods of darkness which can frighten some children.
Q: Does KÀ tour different cities?
A: KÀ is a permanent show at a fixed location, and therefore does not tour. KÀ was created for its Las Vegas location and is performed in a theater built specifically for the show.
Q: How long has KÀ been performing?
A: KÀ has been performing at the MGM Grand since November 2004
Q: How far in advance may I purchase tickets for KÀ?
A: Tickets for KÀ may be reserved up to four months in advance of a performance.
Galleries Coming Soon