MICHAEL JACKSON ONE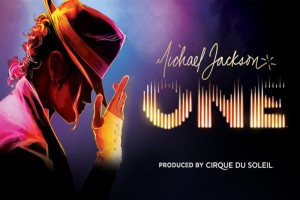 Michael Jackson ONE is a sonic, tonic fusion of acrobatics, dance and visuals that takes the audience on an immersive journey through the music and spirit of Michael Jackson.
Driven by Michael's powerful, multi-layered music – heard like never before in a riveting, state-of-the-art surround-sound environment –ONE takes the audience through a series of seamless visual and musical tableaux, at the heart of a world that is in turn majestic, playful, magical and heart-warming.
In Michael Jackson ONE, Michael's spirit is channeled through the vibrant energy of the cast of 63 dancers and performers, underscored by aerial performance, driving acrobatics, and vivid choreographies that use the urban/hip hop idiom as a springboard for exploration.
ONE is heartfelt tribute to the work, innovative spirit, and legacy of Michael Jackson – the King of Pop, the genius, the visionary, the One.
WHAT THE MEDIA SAYS ABOUT THE SHOW
"Original master recordings give your favorite MJ songs a new breath of life." USA Today
"ONE is an unflinching representation of Jackson's life and his songs — and it is a lot of fun." Entertainment Weekly
"A multimedia extravaganza that often flies high, but never loses sight of its inspiration." Associated Press
Click Here to View to view show times and BOOK NOW!
Q: What time do the doors open to the theater?
A: Doors to the theatre open approximately 1 hour prior to show time
Q: How long is the performance?
A: 90 minutes without an intermission.
Q: Are outside food & beverage allowed inside the theater?
A: Beverages of all kinds are allowed as long as they are in a plastic container. Only popcorn is allowed in the theater
Q: Are there any age limits to see the show?
A: No children under the age of five are permitted inside the theater.
Q: Am I allowed to take pictures inside the theater?
A: Taking Photos during a performance is not only dangerous to the performers, but distracting to your fellow patrons as well. Video/Cell phone/Recording devices of all kinds are prohibited. This policy will be strictly enforced.
Galleries Coming Soon