Diamond Nails and Spa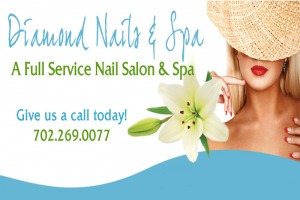 Diamond Nails & Spa is a full service nail salon and spa offering luxurious products and services. Our goal is to pamper all our clients from the minute they walk in our door. We take great pride and care to provide individual sterilized instruments for each client for both our nail and pedicure services.
Our full service salon offers the most amazing treatments from head to toe. Come pamper yourself whether it be a: pedicure, manicure, facial, waxing, tinting, or massage. Even better double up or triple up and stay all day.
Get great nails on the go with our signature waterless manicure. Nails are perfectly shaped, cuticles cleaned, moisturizing massage and finished with buff or polish of your choice.
A pampering manicure that treats and beautifies hands. Hands and arms are gently exfoliated and wrapped in aroma hot towels followed by a paraffin treatment. Enjoy a moisturizing massage and a choice of buff or polish to create the perfect manicure.
Forget the chips and smudges of a manicure. This revolutionary hybrid manicure lasts for 14+ days. With zero drying time and NO DAMAGE to the natural nails. You will be amazed! Featuring Gelish, Shellac, and entity Color 1.
Reflexology. This technique is based on a theory that pressure applied to specific areas of the feet, hands and head stimulates corresponding areas of the body.
Traditional Thai Massage is the most effective therapeutic technique to energize and strengthen the body. Our Thai massage exotic products use all natural ingredients such as herbal without any chemical additives.
Releases muscle tension, provides deep pain relief, loosens scar tissue, lengthens muscles and good for chronic and overuse injuries
Click here to view and schedule one of our many different packages!
Galleries Coming Soon