702 Helicopters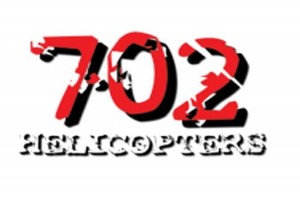 Come and fly with us over the amazing Las Vegas Strip and see the sights as you never have before. A private helicopter tour is the most unforgettable thing you can do in Las Vegas!
Click here to book reservations now!
Exhilarating Tours of Las Vegas from Above
702 Helicopters of Las Vegas, Nevada, provides you with incredible Las Vegas Helicopter Tours of The Strip and more. Let us be your pilot for fun and adventure for an unforgettable vacation.
Las Vegas Strip Tour
The odds for fun are in your favor when you book one of our helicopters tours of the Las Vegas Strip. After you fill out all of the pertinent information on our schedule tab, including the date you want to fly, how many people, and the weights of the passengers, our reservationist contacts you with available times. Your reservation is then confirmed by e-mail. A private flight for two is available for an additional $25.
Deluxe Tour Offerings
Arrive at our facility in style with our chauffeur-driven sedan service. Hotel pickup and delivery is available to and from your tour for an additional $85 ($105 if booked the same day).
The North Las Vegas Airport is where we lift off on your adventure that will cover over 25 miles of ground and last for a thrilling 15 to 20 minutes. During your tour, we fly over sites including:
Old Las Vegas
The Las Vegas Strip
Henderson
Summerlin
Red Rock Canyon
Vegas VIP Tour
Spend a full hour up in the air with this touring package, the longest that we offer. Exciting sites include the Las Vegas Strip and Red Rock Canyon, as well as a flight over the Hoover Dam. Passengers are allowed to interact with the pilot, and up to three passengers are allowed; the weight limit for our passengers is up to 600 pounds.
Exciting Tours of the Strip & Red Rock Canyon in Las Vegas, Nevada
When visiting Las Vegas, Nevada, hire 702 Helicopters to provide you with unique helicopter tours of the Strip and Red Rock Canyon. Enjoy both man made and natural wonders with your family and friends.
The Las Vegas Strip
The Lights and all the glitter of Las Vegas are always best seen by helicopter. Our tour of the strip covers over 25 miles of the Iconic Vegas Landscape. Our helicopters are more personal and private than the larger companies. Come and experience Vegas as a VIP.
Red Rock Tour
On this tour, we provide a 30-minute scenic tour over Red Rock National Park, traveling over the scenic Red Rock Canyon's peaks, valleys, the Calico basin, flying low and right over the tops of the incredible sandstone formations.
Since our company has the best trip advisors anywhere, on each flight, you are treated like a VIP and always in communication with the pilot as we talk about the area, the history, the sites, and anything you want to talk about.
Sedan Service & Grand Canyon Tours
In addition to our other tours and magic show, we have to-and-from VIP Sedan service for the Las Vegas Strip and surrounding areas. The price is $85.00 ($105.00 if booked the same day).
For even more thrills, call us to arrange a Grand Canyon Tour through one of our FAA Part 135 certificated affiliates.
The Magic of Nathan Burton
The complete Vegas getaway always features a magic show. Combining his boyhood charming personality with whimsical illusions, Nathan Burton's twist on magic has received widespread acclaim from audiences around the world. Located inside the Miracle Mile Shops at the Planet Hollywood Hotel & Casino, Nathan Burton's Las Vegas Comedy Magic Show currently plays at 4 p.m. in the Saxe Theater. The 75-minute show includes:
Escaping out of a Giant Microwave
Making a Five-Foot Barbie Come to Life
Fast-Paced, Inventive Illusions
Beautiful Showgirls
Hilarious Comedy
Contact us today to arrange for one of our helicopter tours of the Hoover Dam, Red Rock Canyon, and much more!
Where Do I go?
We are located at the North Las Vegas Airport (NOT McCarran). The Address is:
2634 Airport Drive
suite #101
North Las Vegas Nevada 89032.



The cross streets are: Airport Dr & N Rancho Dr. Go east on airport Dr. at Ranch, and we're the first building on the right. There's a 702 Helicopter sign on front of the building, at the top.

We're positioned about 15 to 20 minutes north of the strip and all of the major hotels.
Please do not go to McCarran or Henderson Airport. If you have any questions, feel free to call our office at 877-203-6823 or 702-508-3288. Press zero a few times to bypass the message & get directly connected.

Here are a few things to keep in mind before your flight:
We ask that you arrive 15-20 minutes before your Helicopter ride for check-in and a safety briefing.
Passengers will be weighed upon arrival.
If the combined weight of all three passengers exceeds 600 pounds, one passenger will not be able to fly; as it would exceed the maximum weight limit mandated for safety reasons. No refund will be issued. If that passenger wishes to fly on another tour they will be charged full fare.
Each passenger can weigh no more than 285 lbs each. If the seat belt will not buckle you will not be allowed to ride, no seat belt extensions.
Passengers who booked through groupon (for up to three passengers) may pick up their Magic show tickets upon request. Please have proof of purchase on hand. As not all passengers have prepaid for tickets, we do not remind people to collect their tickets. If you forget to ask, we unfortunately are not responsible to send, mail, or drive your tickets to you.
If you have booked your tour through another vendor and wish to see The Nathan Burton Magic show, we sell tickets at a discounted rate for our passengers. General admission is $49.99 per person. If you are a passenger, you may buy them here at the 702 office for $20 per person.
Children 4 years old and above are welcome to take the tour. Each must be in their own seat, No Lap riders.
There's room for three passengers on the Helicopter. Parties of two may be joined by a third person. If you wish for your tour to remain private, we offer a $25 upgrade to be purchased upon booking, or booked afterwards by calling the office (1-877-203-6823). By electing to upgrade, we guarantee you will have a private flight.
If your voucher is for up to three people and you make your reservation for two, we will try to fill the third seat. If you show up with a third person after making the reservation for two, the third person will be charged full fare.
What Should I Tip?
Our staff works hard to ensure you have a wonderful experience. If you enjoy your flight, typical gratuity runs at $20 per tour. The funds are split among our crew, and greatly appreciated.
Can You Pick me up?
If you do not have transportation, we recommend a sedan service rather than a taxi. They will pick you up from your hotel, wait for you to take your helicopter ride, and then take you back to where you want to go. This service is an excellent way to ensure you arrive on time, and get back to the strip in style and comfort. Also, it prevents you're having to wait (anywhere from 20 min to an hour) for a cab to pick you up after you fly. The average fare from the strip to the North Las Vegas Airport is $35 to $55 dollars one-way. The sedan Service costs a flat $85 for the round trip, off strip pick ups are subject to increased price. You can book your sedan with a reservations agent at 702 Helicopters.
The sedan is good for up to four people. For a larger party, either an expedition or a limo would be sent, for an additional fee. Upon returning, if you direct your driver to a destination (other than the pickup location) that takes longer than a half hour to arrive, additional fees will apply. Same day booking costs an additional $20. Gratuity for your driver IS NOT included, they take care of you so PLEASE take care of them.
Do You offer other Tours or experiences? . . . YES!!
Here are other Vegas experiences that we recommend:
The Vegas off Road Experience
Night Club Crawls and more.
You can call and book directly through our staff to receive exclusive discounts. Our staff will be happy to book your experience and answer any questions you have.
After your flight any comments or critiques are appreciated on our website. For more information, directions, and photos please visit http://striptouroverlasvegas.com.
Galleries Coming Soon