Trikke Las Vegas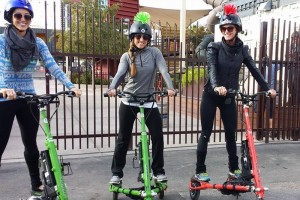 Get an up-close look at Downtown Las Vegas on the comfort of three-wheel electric Trikke vehicles. We offer one of the most unique tour experiences in Downtown Las Vegas. But don't take our word for it. We aim to please and it shows with our 5-star rating on Yelp, Trip Advisor, and Facebook. Customers report it was "The Best thing they did in Vegas" and "We only wish we would have done this at the beginning of our trip". Downtown Las Vegas is quickly becoming the hot spot for locals and visitors, and we'll show you why. In addition to tours, we also offer Trikke rentals and Trikke sales. We operate by appointment so make sure you book ahead or call for an appointment (702-421-2288).
Fremont East-The New Downtown (1 Hour)

Fremont East District is undoubtedly the heart of Downtown Las Vegas. With a plethora of art galleries, chic boutiques and restaurants, it is becoming a hotspot for locals and tourists alike.

Tour highlights include:

New restaurants & bars
The Ferguson
The Hydrant Club
The Beat
El Cortez
John E. Carson

Starting at $49

Discover Life Is Beautiful Art (1 Hour)

This tour will visit the art murals from the annual art, music and food festival called 'Life is Beautiful,' the largest festival that takes place in an urban setting.

Art Mural Artist Highlights:

Zio Ziegler
D*Face
Bicicleta Sem Freio
Jerry Misko II
Borondo
Doze Green

Starting at $49

Discover Downtown The Full Loop (1 1/2 Hour)

Downtown Las Vegas, known as DTLV, has become a mecca of arts, culture and modern lifestyle. This is our full downtown experience and is also our most popular tour. We'll cover the revitalization efforts of Downtown Project, the art murals that grace the streets, and the architectural highlights of the Symphony Park area. Book our sunset tour, it's magical!

Tour highlights include:

Life is Beautiful Art Murals
The Smith Center
Symphony Park
The new Las Vegas City Hall
Historic 5th Street School
Zappos headquarters
The original Las Vegas High School
The Morelli House
Several Downtown Project sites

Starting at $89

The Art District Tour (2 Hours)

On this tour, you will get a chance to navigate through the streets, sidewalks and alleys of Downtown Las Vegas that span over 3 miles to the Arts District. There, you are given the opportunity to explore some of the studios and galleries located within The Arts Factory.

Tour highlights include:

The Art Factory
The Smith Center
The new city hall
Zappos Headquarters
The Container Park

Starting at $109

First Friday

First Friday Las Vegas events are all about art, music, food and community that take place in Downtown Las Vegas. The events serve as a platform for local artists to share and sell their craftwork, gain exposure and build a network of artist and other like-minded people. The goal of events is to encourage the appreciation of arts and the support for local artists in Southern Nevada.

Starting at $35

Create a Custom Trikke Tour Experience

Trikke Las Vegas offers a selection of amazing eco-friendly tours around downtown Las Vegas. The tours are guided by local Trikke experts who will show you all the interesting gems that only locals know about.

Use Your Imagination Create Experiences Like

Wedding/ Bridal Shower Tours
Anniversary Tours
Date Night Tours
Team Building/ Corporate Tours

Custom Experience
Trikke Tours
We offer a variety of tour options. It's a great way to experience the vehicle and a unique opportunity to fully experience the newly revitalized Downtown Las Vegas, with a focus on what's happening, not what happened. We run a Client Rental program. With the lowest rental rates in town you can explore and get around easily on the comfort of three wheels. Rent for an hour, a day, a week, or a month, and you can rent as often as you like. You can even add up to 2 hours of Trikke rental to any tour at 45% off rental rates. After exploring and learning about all that Downtown offers with one of our experienced tour guides, simply take the Trikke and go explore some more on your own. With the add a rental to your tour option you can get the best of both worlds. Yes, we sell the product too! We sell both Body Powered and Electric Trikke Carving Vehicles. We offer full complimentary new owner vehicle orientation which includes set up, care of the vehicle and rider training with every purchase. We also offer a full line of accessories and parts, along with full service and tech support.
What days and times do you do Trikke Tours
Trikke Tours are offered year round, 7 days a week from 9am - sunset. (sunset various throughout the year check our schedule for current times)
Are reservations required?
Reservations are required for every tour we offer. We recommend booking your tour at least 24 hours in advance, however, you may always call up to 2 hours before to see if we have availability (702-421-2288). To ensure your desired day and time we highly suggest making a reservation online at least 24 hours prior, or calling us directly to make a reservation.

How far ahead can I schedule a tour or rental?
You can schedule tours up to 12 months (1 years) ahead of your desired tour date.

Where does the tour start?
All Downtown Trikke tours begin at The Container Park. 707 E. Fremont Street (7th & Fremont). The Container Park offers delicious food at all price points, unique shopping, and a swiss style family tree house and interactive laser tag game that is fun for all ages. We recommend coming early and/or staying after your tour to explore all the Container Park has to offer.

Is there an age or weight limit?
For your riding safety, guests must be at least 13 years of age, a min height of 5'2, and weigh at least 75 pounds and not in excess of 280 pounds. All riders between the age of 13 - 18 must be accompanied by an adult or guardian.

What should I wear?
Helmets will be provided (you may bring your own), please wear close-toed, flat shoes for the tour. Dress for the weather, remember to wear sunscreen. We also recommend sunscreen.

If I am pregnant can I join the tour?
Unfortunately, due to the risk to both child and mother, pregnant women are not allowed to participate on our Trikke Tours.

How big will my group be?
Our tours operate in groups of 2-6. You may call to make special arrangements for larger groups. You may also request a private tour for a small additional fee. We also offer unique team building experiences in additional to custom tours and Trikke experiences.

Can I pay onsite when I arrive before the tour begins?
Yes you may with a 50% deposit when you book, just call our customer service number so that we can reserve your spot on our tour.


Is this tour offered in any other languages?
Tours are only in English.

I've never ridden a Trikke before; will I be able to pick it up quickly?
Your safety is always our highest priority; therefore, we begin each tour with a very thorough orientation of the Trikke and its use before beginning your experience! Our orientations typically take 15-20 mins.

Am I allowed to take pictures during the tour?
Absolutely! We will have various stops that will allow you opportunities to take pictures. However, we do ask that you do not take pictures while you are moving for safety reasons.


Can I rent a Trikke without a guide?
Yes! We do provide training to ensure you are comfortable and knowledgeable. You have two rental options. You may schedule a rental for hourly, daily, & weekly use. Or you may add a 1-2 hour rental to any of our tours at 45% off rental rates, this gives you the best of both worlds, allowing you to explore some of the unique locations you experienced on your tour independently.

Requirements to rent a Trikke:

* Must be 21 years+
* Possess a valid driver's license
* A signed renter's agreement/waiver form
* Credit card authorization/hold - $300

Can I get a DUI for driving a Trikke?
An electric Trikke is a motorized transportation device and so you will be treated the same as though you were driving a car or motorcycle. We therefore ask that you do not drink alcohol during or before your tours and if we believe that you are intoxicated, we can refuse to take you on a tour without a refund and we reserve the right to also refuse to rent you a Trikke for the same reason.


Are Trikkes allowed everywhere?
Unfortunately, Trikkes along with other personal transportation vehicles, are not allowed along the strip or on Fremont Experience since there is an ordinance prohibiting it. Riding on private property such as hotels and resorts is completely up to the owners, so please be sure to contact them for verification prior to your Trikke rental.

What is your cancellation policy?
We are happy to offer full refunds for our Trikke tours if the reservation is cancelled more than 24 hours before the scheduled tour. We do however allow you to reschedule your tour for another day if you are faced with extenuating circumstances on a case-by-case basis.

Are tours cancelled in case of excessive wind, heat or rain?
Yes, tours are subject to be cancelled when the temperature rises to 105 degrees Fahrenheit (40 degrees Celsius), when sustained wind speed is at 30 miles/hr and when it rains. In these cases, we will contact you ahead of your tour and make arrangements to either reschedule or issue you a full refund.

How can I buy/lease a Trikke one?
Yes, we sell the full product line of Body Powered and Electric Trikke carving vehicles. In addition, we also sell parts, accessories, and offer complete service and technical support. Please call us to make an appointment (same day appointments are possible but we do recommend calling at least 24 hours in advance. ) You may also schedule a demo ride which will allow you to try before you buy.
Galleries Coming Soon