Vegas Balloon Rides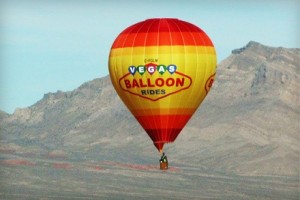 Experience the adventure of a lifetime with the premiere Las Vegas hot air balloon company.
Vegas Balloon Rides has grown to be one of the Vegas' largest operators of commercial hot air balloons. Vegas Balloon Rides markets hot air balloon rides to individuals and groups, and to companies for use as corporate gifts and incentive rewards. Our FAA licensed pilots are talented and experienced, carefully attending to passenger enjoyment and safety. Flight crews are up-to-date in the latest training and equipment, and the company has an outstanding safety record thanks to our skilled staff.
As Las Vegas' leading hot air balloon company, Vegas Balloon Rides is committed to capturing the imagination, attention and memories of our customers. Vegas Balloon Rides is a certified manufacturer of hot air balloons - cold air inflatable advertising balloons. We are an advertising and promotional company that specializes in the design and execution of promotional, display, and merchandising communication programs, using hot air balloons, cold air inflatables, and event management as core tools. Vegas Balloon Rides also delivers related collateral support materials such as promotional product design and execution.

There is no better advertising medium for building and retaining brand awareness and interest in your product. Our clients represent progressive, well-established corporations, national and international leaders.

Across all of the divisions of the company, Vegas Balloon Rides has always prided itself as the leader in customer service, product quality and community involvement.
Your Hot Air Balloon Adventure Awaits!
Your Hot Air Balloon adventure begins when you meet your Pilot and Flight Crew. The flights meet approximately a 1/2 hour before sunrise.
At the launch site, your flight crew will brief you on your upcoming balloon adventure. Then, you will watch with awe as your balloon takes shape before your eyes, ultimately standing more than 10 stories tall. Once fully inflated and ready for take off, you climb into the gondola and begin the adventure of a lifetime. During your flight you will get a spectacular bird's eye view of the gorgeous Red Rock Mountains and the famous Las Vegas Strip. You will drift silently over the city and countryside where you will watch for wildlife and talk with envious onlookers down below. After drifting serenely for approximately an hour we prepare for landing.

Once on the ground, we share in the oldest of ballooning traditions, a champagne toast, and revel in the peace, tranquility and beauty that you never before knew existed. For ballooning we require light winds, good visibility and no precipitation. We fly at approximately 1000 feet. The flights can be 45 minutes in length, however we do require you for up to 4 hours in total for the entire adventure. Since we fly with the prevailing winds, our flight patterns and landing sites vary due to the changing wind directions. There is very little feeling of movement or sensation of height.
Due to insurance restrictions we cannot accept passengers under the age of 10, women who are / or may be pregnant, or those with heart, back or knee problems. If you have any questions about these restrictions please discuss them with one of our Customer Service Representatives.

Private chartered flights are also available. Please ask for details on how we can make your special
Q: How do I book a Hot Air Balloon Flight?
It's simple... just give us a call and we'll give you all the information you need to book a flight. If you already have flight vouchers, click here to schedule your flight. If you need to purchase flight vouchers click here.
Q: How long are the flights?
On average, passenger flights are approximately one hour in length. Some flights can vary from 45 minutes to 1 1/2 hours depending on the amount of fuel on board, the passengers' combined weight, the temperature of the air and when the pilot finds a suitable landing area.
Q: What time of day do the flights take place?
Flights take place at sunrise. Hot Air Balloons are not able to fly during the middle of the day due to thermal activity, which makes the air unstable.
Q: What type of weather conditions are needed to fly in a hot air balloon?
Hot Air Balloon passenger flights take place in winds less than 10 knots, with no rain or approaching storms in the immediate area. Flights also require visibility of at least 4 km.
Q: What type of clothing should we wear?
Special clothing is not required for hot air ballooning. We always suggest practical wear, such as long pants, a light jacket, a hat and no sandals or high heels. We do not fly high enough for a change in temperature so plan to dress for the temperature of the day. Top
Q: Can I bring my camera and binoculars?
Yes, we encourage it. Some of the greatest pictures of the surrounding area can be taken from 500 feet in the air. Don't forget to bring batteries for your camera and a protective case for landing. top
Q: Is it cold up there?
No, it is the same temperature on the ground as it is in the air. The temperature only begins to drop when you begin to fly very high. top
Q: How big is the hot air balloon?
Vegas Balloon Rides flies balloons 210,000 cubic ft to 310,000 cubic ft in size. They typically carry 8-12 passengers, making it easy to accommodate families and groups. The large baskets make for more space per person and our balloons have turning vents so the pilot can rotate the balloon during flight, giving everyone a 360 degree view. top
Q: What makes the hot air balloon rise?
Hot Air! A pair of high-powered propane burners ignites and heats liquid propane that is aimed into the balloon to make it rise. The burners create 30 million BTU's of heat. In comparison, an average home barbecue generates 30,000 BTU's. Each flight uses approximately 25 gallons of propane. top
Q: How fast do you fly?
The balloon travels the same speed as the wind. An average flight is approximately 10 miles in length. top
Q: How do you steer the balloon?
Hot Air Balloons can not be steered like a plane or helicopter. Balloons travel only in the direction of the wind. There may be different wind directions at different altitudes that the pilot may use to maneuver the balloon. Upon landing, our 'Chase Crew' that has been following the balloon since lift off retrieves the balloon and passengers and returns them to the launch location. top
Q: Can anyone fly the balloon?
To fly a hot air balloon you must be a licensed balloon pilot. Much like a fixed wing pilot, balloon pilots go through extensive training including ground school, written exams and hands-on flying. A balloon pilot must have a minimum of 50 hours experience to fly passengers. top
Q: What is the balloon made of?
Balloons are made from rip-stop nylon much like a winter ski jacket. Yet unlike a jacket, the balloon is coated in a special chemical to help it resist heat and last longer. Balloons have an average life expectancy of 300 hours of use. Manufacturers have many different colours of fabric to choose from to create the many different patterns seen flying through the sky. top
Q: How much does a hot air balloon cost?
An average hot air balloon, including the basket will cost approximately $60,000.00. top
Q: Who makes hot air balloons?
Hot air balloons are made by a small group of select manufacturers around the world. The largest manufacturers of which can be found in England, The United States and Canada. Vegas Balloon Rides and its parent company Sundance Balloons are among this elite group. We hold a Transport Canada Type Certificate and manufacture state of the art balloons at our factory located in Belmont, Ontario. top
Q: How high do you fly?
Though the altitude record for hot air ballooning is 90,000 feet, the height of passenger flights range anywhere from treetops up to 2,500 feet. top
Q: What happens if I don't fly this season? Will my voucher still be valid?
As ballooning is weather dependent we have to cancel your flight if conditions are not safe. If your flight is canceled, you simply reschedule either online or by phone, for another date that suits your schedule. Sometimes passengers can be canceled a few times before being able to fly. If you have tried a few times and have not been successful going 'Up Up & Away', we simply extend your vouchers for you to continue scheduling. top
Q: What can cause a cancellation of a flight?
As safety of the passengers, crew and equipment is of utmost priority, flights will sometimes have to be cancelled. Various factors can cause cancellation such as weather conditions, equipment malfunction or pilot injury or illness. Your safety is our concern and we will not fly if this is jeopardized. If your flight is cancelled you simply reschedule for another flight. top
Q: What happens if I don't want to use my balloon ride voucher?
All vouchers are prepaid in full and are non-refundable. We do understand that sometimes passengers situations change and they no longer can or wish to use their balloon ride vouchers. For this reason, the vouchers are transferable. If you wish to transfer your voucher to another party, please ensure their health or ability is not restricted. Simply let us know who you have transferred the voucher to and we will adjust the file so they can continue to schedule on it. If you are moving to another city that we fly in, the voucher can be transferred to that city.
Galleries Coming Soon