702 Wedding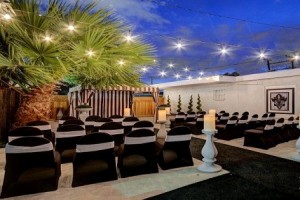 Las Vegas Weddings will never be the same! Vegas Weddings has redefined the experience of getting married in Las Vegas by designing a gorgeous, new chapel to rival the finest wedding venues and services anywhere in the world.
Click here for our Wedding Venues and Packages
Vegas Weddings
On-Site Locations Include:
THE Wedding Chapel - Our most sought after venue. Tradition with a touch of modern elegance. Automatic double door entry. Seats up to100.
The Terrace Gazebo - Second story balcony. Beautiful Gazebo. Sunset view. Seats up to 30.
The Reception Hall - Warm, modern ambience. Wood Floors. Seats up to 56.
The Wedding Suite - Intimate. Sophisticated. Seats up to 10.
The Fast Lane - Walk up & drive thru weddings
The Wedding Garden
Features Include:
Indoor Wedding Venue with Outdoor Ambience
Mediterranean Garden with Roman Columns
Located Inside The Casino Wedding Chapel
Seats up to 40
Galleries Coming Soon