Chapel of the Bells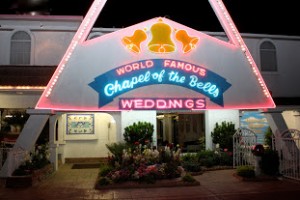 Experience One of the Best Wedding Chapels In Las Vegas Chapel of The Bells is among the very few historic Las Vegas wedding chapels located on the strip. The World Famous Chapel captures the essence of our beloved city and has built its legacy through a tradition of excellence and elegance.
Click here to book reservations!
Chapel of the Bells assures you the atmosphere and romance that makes lasting memories; music; candlelight and lovely surroundings combined with professional service will "MAKE YOUR DAY."
Chapel Of The Bells is one of the Oldest Las Vegas Wedding Chapels. We are Located right on the strip close to everything. For over fifty years, we have been the place to get married in Las Vegas for celebrities, tourists and locals. We have been featured in several Hollywood movies that were filmed in Las Vegas such as Honeymoon In Vegas, and Indecent Proposal
Chapel of the Bells is based in Las Vegas, NV and has been home to celebrities, athletes, military personnel and countless others who have wanted to proclaim their love for over fifty years. Past celebrity marriages include Mickey Rooney, Ernest Borgnine, Pele (the South American Soccer Champion), Kelly Ripa, Mark Consuelos, and Beverly DeAngelo. A record number of soldiers tied the knot before Desert Storm.
Galleries Coming Soon