Chapel of the Flowers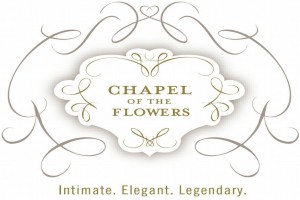 Chapel of the Flowers features three unique chapels on its Las Vegas Strip grounds, one of which is sure to make your Vegas wedding unforgettable. Our three on-site chapel options include a traditional Victorian Chapel, the Tuscan-inspired La Capella Chapel, and the chic, modern Magnolia Chapel. You can also reserve the Glass Gardens for the perfect setting for your outdoor ceremony. Find the perfect wedding venue for your Vegas wedding here!
Click here to book Reservations.
Chapel of the Flowers is Las Vegas' highest-rated and largest full-service wedding venue, providing traditional, modern and elegant Las Vegas weddings on the world-famous Las Vegas Strip for nearly six decades. With three stunning indoor wedding chapels, a beautiful outdoor gazebo and a one-of-a-kind glass garden area, this is the ultimate venue for your perfect Vegas Wedding! Enjoy almost an acre of cobblestone-accented grounds and vibrant backdrops designed to capture every picture-perfect moment of your wedding in Las Vegas.
Couples are consistently impressed with our over-the-top customer service and our ability to plan the entire wedding ceremony, provide award-winning photography, orchestrate flowers, reception venues, tuxedo and gown rentals and everything else you could need or want to create the flawless Las Vegas wedding experience. Our professional wedding planners are here for you, to ensure every aspect of your big day is both easy and stress-free.

We can say with absolute confidence that Chapel of the Flowers is the best wedding chapel in Las Vegas for your beautiful and romantic wedding.
Take a tour of the grounds and see what makes Chapel of the Flowers unlike other Las Vegas wedding chapels. Here we help you create a one-of-a-kind wedding experience. With three different chapels to choose from, amazing photography locations on site to capture the moment and a florist and photography studio on site, we know you will find just what you are looking for to enjoy your special day. Each chapel is unique so you will find just the right look for your perfect wedding. Our property includes a gazebo, Crystal Canopy, waterfall, Glass Gardens and more – all designed to create amazing backdrops for your wedding photos. Our professional team is located on-site to make your day all that you dreamed of and as stress-free as possible.
With so many wedding chapels in Las Vegas to choose from, Chapel of Flowers stands out from the rest with a stunning location right on the Strip and unique amenities to make your wedding day special. Whether you are planning an intimate ceremony for two or a lavish celebration for larger group, Chapel of Flowers is your destination for the wedding of your dreams! Click around this interactive map to learn more about what makes our Las Vegas weddings so unique!

Learn more about Chapel of the Flowers by watching our videos or checking out our virtual tour.
Click here for Ceremony Packages
You are dreaming of the perfect Las Vegas wedding and you want the glamour and fun that only the Strip can provide. At Chapel of Flowers, we have amazing wedding packages that cater to every dream, whim and budget. Our Wedding Planners strive to create the ultimate Las Vegas wedding packages that are as unique as each couple that passes our threshold. From intimate weddings for two to offsite ceremonies for 200, just ask – your wedding wish is our command!
When you choose Chapel of the Flowers, you are part of the family. When you get married here, your beautiful wedding is the first step in building a beautiful marriage that we love to celebrate and you are welcome to come back and renew your vows as often as you like – for free. From our beautiful chapels, to our fantastic grounds featuring fountains, gazebos and a crystal canopy, our talented photographers and videographers will be there to capture every breathtaking moment so you can treasure the memories. Explore the many options we offer and choose the perfect combination for your wedding day.
Click here for Products and Services
Chapel of the Flowers features everything you'll ever need for your Las Vegas wedding. From our award-winningphotography packages, to flowers and luxury limo services, all our additional wedding-related products and services can all be found here. This distinct array of products and services can be added to any of our Las Vegas wedding packages, allowing you to make your wedding tailored to your particular tastes, from the reception venue, to the flowers, to the music. Imagine having a live guitar player or violinist at your wedding for you and your guests to enjoy! Click the product or service listed below to customize your Las Vegas wedding and explore all the options that make us a Vegas wedding favorite year in and year out!
Galleries Coming Soon