Las Vegas Tux and Gowns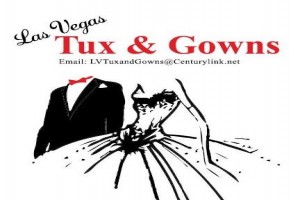 At Las Vegas Tux & Gowns, we offer a variety of wedding dresses and tuxedos at affordable prices and for rent.
Las Vegas Tux & Gowns is the largest and most complete bridal store on the Vegas Strip. Conveniently located between the Strip's Hotels and Downtown, we offer a variety of designer wedding dresses and tuxedos at warehouse prices.

Our professional staff will assist you in finding the perfect gown and tuxedo for your dream wedding. All our attire can be rented or purchased.
WEDDING DRESSES
Formal Wedding Gowns from well known designers around the world.
TRADITIONAL WEDDING GOWNS
Traditional wedding gowns are very formal and sophisticated. They vary from off the shoulder, sweetheart, to a strapless leaving you with a beautiful silhouette for photos. They usually have a train on them that can be from short to long depending on the style.
SHORT AND HIGH-LOW GOWNS
Short and High-Low Gowns are very popular in Las Vegas at certain times of the year. With a cute pair of shoes or boots, the short styles give a real sassy, fun look to your Wedding Day.
TUXEDOS
We have designer tuxedos that can be personally tailored , usually in about an hour. Let our friendly staff help you mix and match your style and color to match your Bride perfectly!
PACKAGES
DIAMOND PACKAGE - $499
Choose from any of the dresses in our store. *** Then pick the perfect veil and tiara. You can even pick out a matching necklace and earrings to complete your magical look! Includes Deluxe tuxedo for the Groom, with vest and shoes.
*** Does not include the consignment dresses that are for sale only.
GOLD PACKAGE - $399
Choose any of the Gowns $399 or less, and the Groom's tuxedo is free! We'll also include a beautiful headpiece (tiara) or veil.
STERLING PACKAGE - $299
We have a large number of very stylish short dresses to pick from, as well as a selection of less formal gowns. A smart fitting tuxedo for the Groom and the two of you will be a picture of happiness!
OTHER SERVICES
MEN'S AND WOMEN'S SHOES
We have a great selection of Men's and Women's Wedding Shoes & Accessories.
PROFESSIONAL STYLISTS
Our professional staff will assist you with finding the perfect gown and tuxedo for your dream wedding.
ALTERATIONS
Alterations are done on the same day.
11 am -7 pm
CONSIGNMENT
We accept Wedding Dresses, Bridesmaid, Flower Girl, and Mother's Dresses at any time of the year. Prom Dresses and Homecoming Dresses are accepted at certain times of the year. We do not purchase dresses, but rather consign them. Please call or email with any questions you might have. Consignment apparel will be accepted up to 5 years old. All items must be dry cleaned and in great shape. If it is not dry cleaned, we will clean your apparel for you at $100 per item.
Galleries Coming Soon