Summerlin Jewelers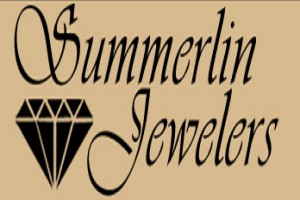 It's a family tradition! - Summerlin Jewelers was established in Las Vegas in October 1994 by Larry Minden, a third-generation jeweler. We sell and repair all types of jewelry including gold, platinum, silver, and watches and also design custom jewelry. Our business is a proud member of the Better Business Bureau, Las Vegas Chamber of Commerce and the Independent Jewelers Organization (IJO).
ABOUT US
Summerlin Jewelers is a family-owned and operated independent jeweler offering fine jewelry and much more. Thank you for visiting our website. We sincerely hope that you allow us to serve your jewelry needs.
HUGE INVENTOR
We stock over 6,000 items, which include the following categories:
14 karat gold neck chains (sold by weight) including Parisian Wheat Chains (strong as steel), as well as Italian chains with factory lifetime guarantees (certain styles)
Estate jewelry and vintage watches
Loose diamonds at substantial discount
Wedding rings in 14 karat, 18 karat, and platinum
Thousands of gold and gemstone rings for men and women
14 karat gold bracelets (sold by weight) for men and women as well as diamond and gemstone bracelets
Cultured and Tahitian pearl rings, earrings, and necklaces
WE ARE AUTHORIZED/CERTIFIED DEALERS FOR THE FOLLOWING WATCH LINES:
Citizen Watches
Anne Klein Watches
Bulova Accutron
Hot Diamond Silver Jewelry - Perfect for Weddings and Teen Jewelry Gifts
MASTER IJO JEWELERS
Summerlin Jewelers is a member of The Independent Jewelers Organization (IJO), which offers us extensive buying opportunities, allowing us to bring the top fashions and best prices to our clients. The organization also allows us to buy directly from the cutters through their offices in Antwerp, Belgium, the diamond capital of the world.
Through IJO, Summerlin Jewelers can buy directly from diamond cutters in Antwerp, Belgium. We will even make the trip overseas to act as your broker and hand select your diamond from the vast inventory at their disposal.
The Independent Jewelers Organization itself is an organization focused on continuing education, offering seminars on both Gemology and Industry Trends, which promote consumer protection. IJO's GIA Title Program is a comprehensive gemological and business education program available to us.
Members have the opportunity to attend two trade shows a year where our top manufacturers exhibit the latest fashions in fine jewelry. We also have the opportunity to attend many educational seminars and to discuss with other members better ways to serve you, our clients.
WHY PURCHASE FROM A MASTER IJO JEWELER?
Confidence:
As a Master IJO Jeweler, we adhere strictly to the following values to give you the confidence you need to make the right jewelry selection and purchase.

Trust:
We earn your trust based on Integrity, Honesty and Expertise we deliver through our hometown service.

Integrity:
As a Master IJO Jeweler, we adhere to an ethical code of conduct and best business practices.
Honesty:
We are sincere and truthful about the information and pricing of the fine jewelry we sell in our store.
Expertise:
Our combination of experience, skill and knowledge is a quality we bring to help you make a confident jewelry purchase.
THE 4 C's OF BUYING A DIAMOND

Planning to buy a diamond then we at Summerlin Jewelers understand its importance and our guide below will make your diamond buying a more easy and enjoyable experience. Most important criteria that a jeweler uses while grading a diamond are Cut, Clarity, Color and Carat weight. It's commonly known as 4 C's of a diamond. All this four properties will determine how much a diamond is worth.

CUT

Most often a person gets confused and thinks cut is the shape of the diamond but actually it refers to the angles and proportions of a diamond. Diamond cut is considered the most important of the four Cs, so it is important to understand how it affects the properties and values of a diamond. Diamonds that are cut either too deep or too shallow can lose or leak light through the sides and bottom and will be less brilliant-and ultimately of less value. But a well cut diamond is able to handle light better, creating more scintillation and more sparkle which leads to brilliance.

CLARITY

Diamonds are graded for clarity under 10x loupe magnification. Clarity ranges from flawless (perfect) to I (included). Below is the chart that certification societies have standardized for grading to describe the clarity of a diamond.

F - Flawless: No internal or external flaws. Extremely rare.

IF - Internally Flawless: no internal flaws, but may have minor flaws on the outside. Very rare.

VVS1-VVS2 - Very, Very Slight Inclusions: Have very small inclusions. It's very difficult to detect inclusions under 10 x magnifications even by a trained gemologist.

VVS1 inclusions can only be seen through the pavilion. VVS2 inclusions are more visible.

VS1-VS2 - Very Slightly Included: Inclusions can only be seen with difficulty under 10x magnification. VS1 inclusions are harder to see than VS2.

SI1-SI2 - Slightly Included: Inclusions easy to see under 10X magnification and might be visible to the naked eye

I1-I2-I3 - Included: Inclusions visible to the human eye.

COLOR

Diamond's color is usually referring to the presence or absence of color in white diamonds. Diamonds act as prisms and can divide light into a spectrum of colors and reflect this light as colorful flashes referred to as fire. The more colorless a diamond is the more colorful the fire will appear. Diamond colors generally range from D - Z for white and yellow diamonds. D is the whitest. Around S they become "Fancy" yellow Diamonds.

CARAT – WEIGHT

This is the weight of a diamond measured in carats. One carat is equivalent to 200 milligrams. Sometimes one carat is referred to as 100 "points", so that a diamond of 75 points weighs .75 carats. Carat-weight is the easiest of the 4C's to determine. But two diamonds of equal weight can have very unequal value, depending on their cut, color and clarity. Larger diamonds often cost more per carat due to their size. Diamond cost increases exponentially with an increase in weight because larger diamonds are rarer than smaller diamonds and this rarity increases the value of a larger diamond.
Galleries Coming Soon